City destinations
Apartment rentals with veoapartment
Veoapartment is a booking agency specializing in short-term city apartment rentals, mostly in Spain. We pride ourselves on the quality and variety of our apartments - whether you're looking for a luxury apartment with private swimming pool, a penthouse right in the very centre of town or a simple, comfortable studio as a base for your city trip. Our aim is to match the perfect holiday apartment to your needs. Below is a brief guide to help you choose your apartment, and a little about us and our approach.
Where do I want to stay?
We know there are many different types of travellers, each with their own needs and preferences with regards to their immediate surroundings and the type of neighbourhood in which they'd like to stay. Here are just three examples:
1. For some, the top priority is to be right in the centre and as close as possible to the city's tourist sights.
2. Others are looking for an authentic place where locals live, away from the crowds.
3. Another type are professionals, who might need to commute every day and need parking.
This video shows an example of how we present city
neighbourhoods
, to help you choose the one which will best cater for your likes and needs.
How do I find available apartments?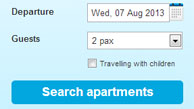 Veoapartment is an online booking website. This means you can use the
search engine
on the top right of each page to find a list of available apartments. Then, if need be, you can reduce the number of results by applying
filters
: with "terrace", "parking", and so on.
Having said this, we are also very proud of our in-depth knowledge of each individual apartment, and encourage you to make a personalised request, if you prefer. Let us know what you are looking for, or if you have any special requirements, and one of our booking agents will respond by e-mail with a list of apartment options according to your specifications.
How do I choose an apartment?
Our aim is to show the apartments as they really are. On our website, we try to present them in a way that allows you to get a true impression of the spaces and the characteristics of the apartment, both with a written description and visually.
We have wide-angle PHOTOS to get a fast first impression, VIDEOS of about 2 minutes in length, to simulate a walkthrough of the apartment, and a FLOORPLAN to show you the exact layout.
Have you seen other websites with loads of beautiful photos of small details? We do NOT do this! We also encourage all our guests to write reviews, so you get an independent opinion.
Veoapartment service
We believe it is our
service
that truly marks the difference in your experience. For visitors to Seville, we offer all of our clients a range of complementary services, such as
airport transfer
and
car parking
. We'll even go
grocery shopping
for you prior to your arrival if needed!
We are always happy to help with any questions you might have and encourage you to get in touch, whether by e-mail or phone. On our website, you'll find an introduction to each city and we're adding more information and new videos all the time - like tips on
where to eat in Granada
and an introduction to the wonderful
Alhambra
.
We look forward to welcoming you!
So that's a little about what we do... we hope you're inspired by our work! If you'd like to know a bit more about veoapartment and who we are, have a look at the
About us
page, or click on the video on the left.
Your veoapartment team