So you are coming to Seville with children? That's great! — We have found some fun and family attractions.
1. Aquarium
Photo: Aquarium Seville
Seville's new aquarium features a wide range of marine life in big, modern-style tanks. Stars of the show are the sharks, but there are plenty of other unusual and brightly coloured exhibits too. There's also an opportunity to spend a night with the sharks, and learn all about these fascinating creatures. Full details are available on the official website.
Address: Calle Santiago Montoto s/n (Puerto de las Delicias)
Opening hours: Mon-Thur 10:00-19.00 (Nov-Feb) or 20:00 (Mar-Oct) | Fri-Sun 10:00-21:00 (22:00 Mar-Aug)
Price: €15 adults | €10 children, disabled, pensioners | discounts for large families and groups
Phone: +34 955 441 541
Official Web: www.acuariosevilla.es
2. Isla Mágica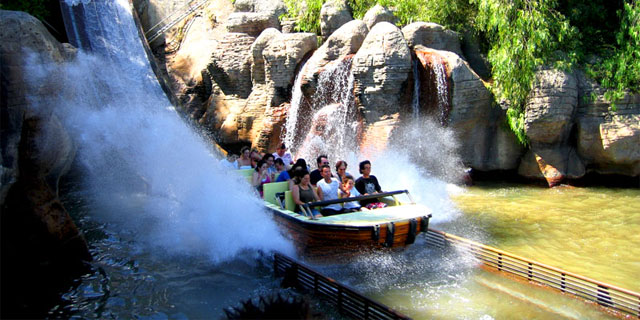 Photo: Iguazú water slide
Isla Mágica, Seville's exploration and pirate themed amusement park is fun for all the family. As well as all the attractions, including lots of water rides for the hot summer weather, there are "recreations" of Seville's Golden Age, pirate ships, a special area for younger children, shows, shops and restaurants.
Address: Rotonda Isla Magica (Isla de la Cartuja)
Opening hours: April-November only – for list of dates and times http://www.islamagica.es/preparatuvisita/calendarioyhorarios.php?idioma=en
Price: Full day €29 adults €21 children | afternoon €20 adults €15 children | nights €11
Phone: +34 902 161 716
Official Web: www.islamagica.es
3. Casa de la Ciencia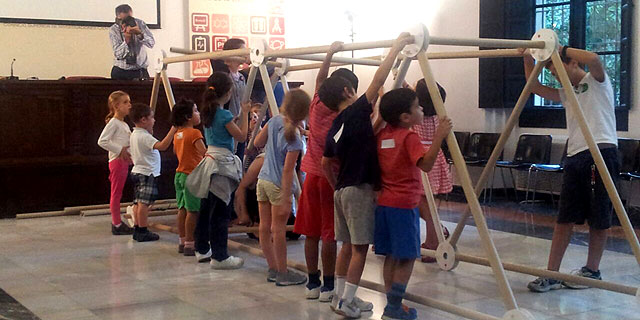 Photo: For children birthdays and other groups they organize workshops
Seville's science museum is modest in size, but still boasts interesting exhibitions on the flora, fauna and geology of Andalucia, and also a planetarium with regular shows, including special shows for younger children at weekends. There's plenty to fascinate enquiring young minds, and all housed in the Peruvian pavilion of the 1929 expo.
Address: Pabellón de Peru, Avenida Maria Luisa s/n
Opening hours: Closed Mon | Tue-Fri 10.00-21.00
Price: €3 and planetarium €2
Phone +34 954 232 349
Official Web: www.casadelaciencia.csic.es
4. Maria Luisa park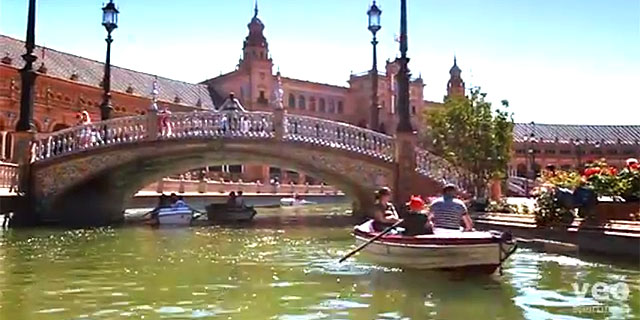 Photo: Rowing boats in the Plaza de España
The Parque Maria Luisa, the site of the 1929 Spanish-American exhibition, is Seville's biggest park, and has lots of spaces for children to run around and explore. There are several play areas with swings and climbing frames, a duck pond, an artificial waterfall, and the frog fountain. Most famously it houses the Plaza de España, the grand semi-circular building that was the exhibition's centrepiece. The Plaza has a boating lake, and rowing boats can be hired for €5 for half an hour.
5. Matalascañas beach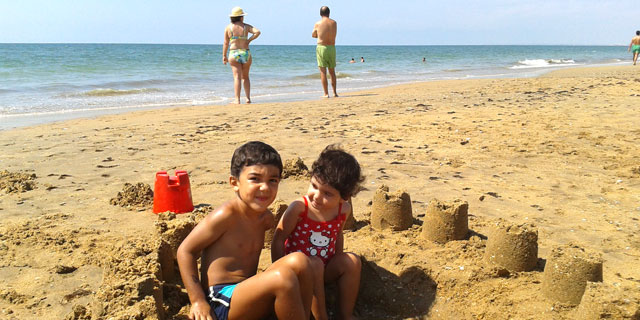 Photo: Matalascañas beach at 1km north-west of the village
Matalascañas, with some 7 km of sandy beaches, is one of the most popular seaside resorts for Sevillanos looking to escape the summer heat. Apart from the beaches, it's most famous for La Higuera, the ruined upside down watchtower in the shallows next to the beach. It's a 2 hour journey by bus, with buses leaving Seville (Plaza de Armas bus station) at 09.30 and 16.00, and returning from Matalascañas at 10.00 and 18.00. Check the bus operator's website for up to date timetable.
When you get off the bus, you can either take the road down to the main beach, where you'll find some restaurants and bars along the Paseo Marítimo, or you can turn right into the "Parque Dunar". There is a picturesque wooden gangway over the dunes at the height of the pine trees, which leads to a less busy part of the beach.
Bus Seville-Matalascañas: www.damas-sa.es
Related blog posts
Seville | Keeping the Kids Amused
Seville | The New Aquarium