I was rooted to the spot as the big shark turned lazily above me then dived swiftly downwards, a streamlined silhouette against the light shining on the surface of the water. Was this it? Was this how it was going to end?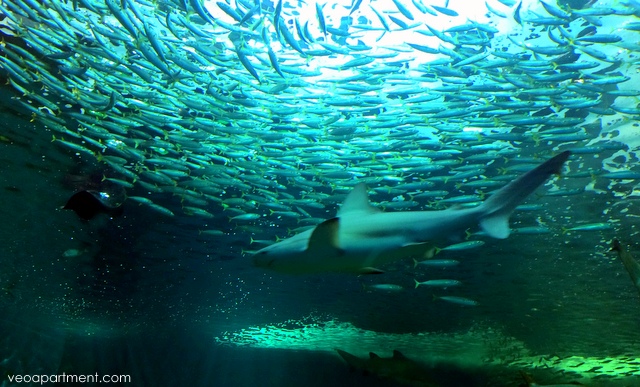 Fortunately not. The shark was inside the big tank at Seville's newest attraction, the Acuario de Sevilla, and I was safely outside, along with what seemed like a hundred other journalists and bloggers who'd come to the press event to mark the grand opening last Tuesday. The dignitaries would arrive shortly for the announcements and photo ops, but me, I was just there for the fish.
And there were fish aplenty. According to the handouts about 7000 specimens belonging to 400 species, distributed through 40 specially built tanks. There were also crocodiles, turtles, crabs and other denizens of the deep to delight, and sometimes amaze the eye. There was also a display of some of the junk that gets fished out of the sea, just to get you thinking a bit.
The sharks were the obvious stars of the show, but my favourites were some of the less obvious exhibits, such as the octopus and the cuttlefish, and those unfish-like fish the rays and skates. And the swarms of tropical fish. And the crocodiles. And – well, you get the picture. Or in this case, pictures.
The new aquarium has been a long time coming, with not a few delays to the completion of the project, but now it's here it's a welcome addition to the activities and attractions that Seville has to offer, especially for children when the weather is either too hot or too wet. You can find it at the far end of the Las Delicias Wharf where the cruise ships berth, an area that has been undergoing a lot of renovation in recent years, and now boasting a riverside walk and a number of bars and restaurants.
If you're looking for somewhere to stay veoapartment has a wide range of apartments nearby.
Seville Aquarium
Calle Santiago Montoto (Puerto las Delicias)
Opening hours Mon-Thur 10am to 7 pm (Nov-Feb)
10am-8pm (Mar-Oct)
Fri- Sun 10am – 9pm (10pm Mar-Aug)
Tickets €15 adults €10 children, disabled, pensioners. Discounts for families and groups.