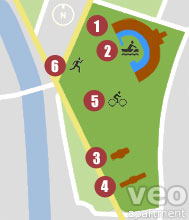 The Maria Luisa Park lies to the south of the historic centre of Seville and is well worth a visit: whether for a leisurely stroll under the shade of the trees; for excercise - running and cycling are popular both with residents and visitors; or to visit one of its cultural monuments.
The Duchess of Montpensier, the Infanta Luisa Fernanda, donated part of the gardens of the Palace of San Telmo to the city in 1893. These were considerably remodelled in 1911 to the layout that can be seen today. There are many ponds, fountains and monuments scattered throughout the park. In 1914 work began on the buildings for the the 1929 Hispano-American Exhibition, including the Plaza de España.
The park is also home to two museums - the Archaeological Museum and Museum of Popular Arts and Traditions. The latter are face each other across the Plaza de America, to the south of the park.
If you don't fancy walking, at Plaza de España you can rent a horse-drawn carriage or a rowing boat. Within the park, bicycles are available for hire.

Plaza de España
Built for the Latin American Exposition in 1929 and designed by Seville's most famous architect, Aníbal González. This unique, crescent-shaped building and its square has featured as a location in films such as Lawrence of Arabia and more recently, Star Wars Episode II: Attack of the Clones.




Rowing Boats
In the square of the Plaza de España is a canal, where you can rent rowing boats for 5 Euros /30min. As seen in the video, it is ideal for families with children.

Museum of Popular Arts
Designed by Aníbal González, the Museum houses regionalist paintings, costume and jewellery among other artefacts exploring the ethnographic history of the city. There are also temporary exhibitions. For more information, see Seville Museums.




Archaeological Museum
Facing the Museum of Popular Arts across the Plaza de América, and likewise designed by Aníbal González, is the Archaeological Museum. The Museum houses some outstanding artwork including the Carambolo Treasure and other important archaeological artefacts. For more information, see Seville Museums.




Bycicle rental
Next to the entrance to the Plaza de España you can rent bycicles either per hour or for a day. We recommend cycling within Maria Luisa park itself, or along the Guadalquivir river along cycle paths.




Jogging
Maria Luisa park is a popular place for running both with Sevillians and visitors. One circuit of the park, mostly on albero (the ochre coloured clay typical of the region) paths is equivalent to approximately 2 km. See a map of the circuit here.


Related blog posts
Aníbal González – The Man Who Built Seville

External links