If you're an adult, finding something to enjoy in Seville is like shooting fish in a barrel. Whether you like monuments and museums, picturesque balconied streets and plazas, parks and gardens, shopping, or just sitting out at pavement cafes or in cosy tapas bars watching the world go by, there seems to be an almost endless supply.
Your kids, however, may have more exacting (or at least different) standards. Another magnificent palace? Yawn. But never fear, help is at hand.
Depending on the age of the child, a little distraction may be all that's necessary. Have them hunt for the crocodile in the Cathedral, for example (yes, there is, but it's not alive). Climb the tower, too, looking out of the windows at each turn of the winding ramp. They may also like the model boats in the naval museum in the Torre del Oro. Try the maze in the gardens of the Alcázar Palace.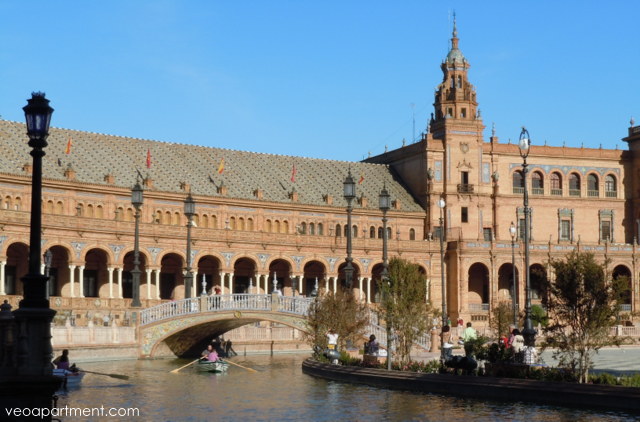 Buy a football and have a kick around in the park, or stop off at one of the children's play areas – there are quite a few of these, including those in the Murillo Gardens,  If they like horses, take a carriage ride. You'll probably enjoy it, too, and if you go out to the Plaza de España, you can have a go on the boating lake or rent a 4-wheel pedal bike cart in the Maria Luisa Park.
For something a little different visit the Casa de la Ciencia, in the Peru pavilion alongside Maria Luisa Park, which has exhibitions for children and has just opened a planetarium (shows Tuesday to Friday at 6.30pm, and Sats and Suns at 11.00,12.00 and 1.00).
Another alternative is a day at the beach. There are lots of good beaches along the Cádiz and Huelva coasts, the closest being Matalascañas, less than an hour's drive away.
If all else fails you may have to bring out the big guns. Isla Magica is Seville's pirate and adventure theme park in the Cartuja neighbourhood. All the fun of the fair for children (and grown-ups) of every age, and lots of shows and entertainments. A bit pricey, but you can take the edge off by going after 4.00pm with a half-day ticket. The season runs from the end of March to the beginning of November.
Still on the pirate theme, the pirate boat cruise on the river is lots of fun, as well as being a pleasant way to see the city from a different point of view.
If you're looking for somewhere to stay with a family we have some great two and three bedroom holiday apartments at a variety of prices in the centre of Seville, some, like the Teodosio, with their own private rooftop pool. Don't forget that we have an airport to apartment transfer service that includes provision of a child safety seat.