Seville | Rooftop Swimming Pools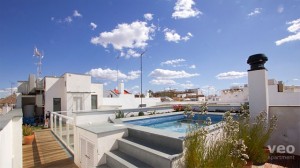 If you've been dreaming of spending your summer holiday somewhere warm and sunny with your own swimming pool to cool off in after a hard day of strolling around one of Spain's most beautiful cities, the good news is that you can make the dream come true, and it doesn't have to cost you a fortune either.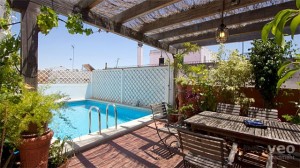 We have two spacious holiday apartments in Seville with private swimming pools – Teodosio Terrace and Miguel Terrace – as well as two one-bedroom rentals with access to shared swimming pools – Ibarra Terrace and Pedro Miguel – where you can enjoy those bright blue skies (don't forget your shades and sunblock!) and unwind in sumptuous surroundings with all the comforts of home.
As a bonus, you'll also get to smile smugly to yourself when you're at the top of the Giralda Tower and overhear someone comment enviously on the rooftop pools. And while in Seville you can also sample the famous local cuisine in some of its many tapas bars, stroll along the river, or take in a flamenco show (or opera at the market!). Sound like a plan?
 Cooling off in your own pool is just one of the many ways to beat the heat in Seville.