In my line of work I get asked a wide variety of questions by visitors eager to get the most out of their stay in Spain. Everything from "Is it worth seeing the Alhambra?" (Duh), through "Do they still do bullfighting?" (Yes, except in Catalonia, and yes, they still kill the bull) to "How does the washing machine work?" One of the most common subjects of enquiry, perhaps surprisingly, is paella (pronounced pie-aiya, the Spanish double-ll always being pronounced as a y). It seems that outside of Spain, where it's just part of the furniture, paella is regarded as the Spanish "national dish", and it comes as something of a surprise that in many parts of Spain it's not particularly common. People are also quite hazy about what a paella actually is (it's a specific dish, not just rice-with-things-in-it, which covers everything from risotto to kedgeree and exists in pretty much every country in the world), so today's post is a kind of paella 101.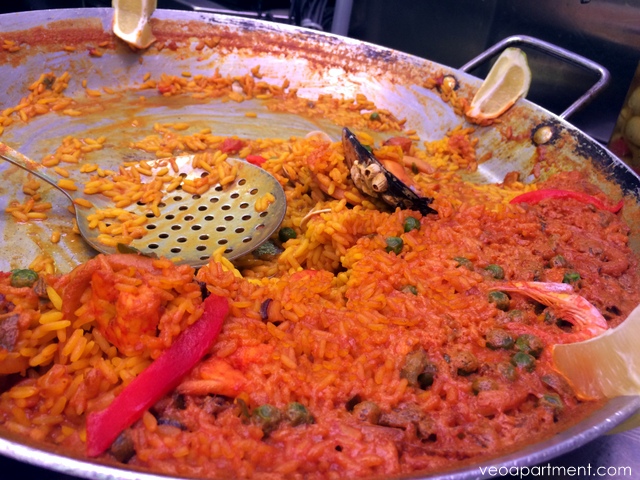 What you can expect
Firstly, paella is not really a Spanish dish, but a regional dish from Valencia on Spain's east coast, where rice was first cultivated by the Moors, who improved and adapted the Roman irrigation systems of the area for this use. By the 15th century rice was an important staple, often eaten as a casserole with fish and vegetables. Modern paella was developed by farmers around the Albufera lagoon near Valencia during the 18th and 19th centuries, and was traditionally cooked on open fires of orange and pine branches, whose aroma infused the dish. Initially the principle added ingredients were water voles, eels, snails and beans, but as living standards improved rabbit and chicken became the norm, and are regarded today as proper Valencian paella.
What to avoid
The name of the dish is a Catalan/Valencian derivative of old French paelle, meaning a pan, but now referring to the wide, flat metal pan (a paella) in which the rice is cooked, and whose shape allows the distinctive light crust, the hallmark of paella, to form on the bottom. Classic paella is made with a short grain rice, usually calasparra or bomba, chicken and/or rabbit, snails (optional), green beans, artichokes (in season), garlic, olive oil and saffron. It is a matter of some contention as to whether other varieties, made with fish, seafood and other ingredients should be classed as paellas. Purists say no, but there doesn't seem to be any other convenient way of referring to them, and the usage has become so widespread that it's no longer possible to hold back the tide. But apparently adding chorizo to a paella is the ultimate sin.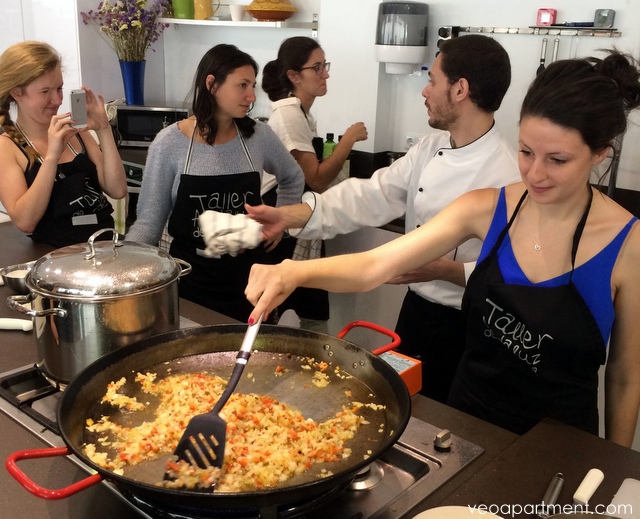 Chef Victor at Taller Andaluz shows us how it's done
So where can you get a good one? For the most part, the answer seems to be Valencia or Barcelona (and places between). Sevillanos don't seem to have mastered the art, although they do have fabulous rice dishes of their own. Look for arroz del día at bars, only served at lunchtime and often made with long grain rice. Avoid places with pictures of lots of different paellas, they're always tourist traps, and the paella preprepared/frozen. Good paella should be fresh and takes at least 40 minute to arrive at your table.
There is another alternative, though. By far the best paella I've had in Seville was at the cooking class in Triana market (we made three traditional Spanish dishes, all excellent, and had lots of fun, too). And if you're renting one of our self-catering apartments you can practice the recipe yourself (though you will need a proper paella pan).