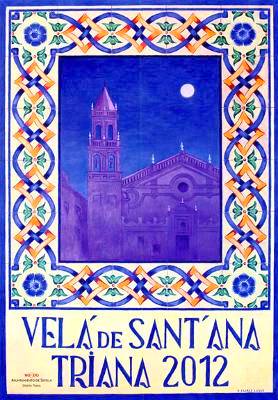 Triana has long had a reputation for knowing how to fiesta, and every year in late July Sevillanos flock to "the other side" for the barrio's biggest annual street party – the Velá de Santiago y Santa Ana – which starts this Friday July 20th. The evening streets around Plaza Altozano will fill up with revellers, and busiest of all will be Calle Betis, where a small fun fair for children and a variety of food and craft booths will be set up. It's a great place to stroll, to see and be seen, and to enjoy a beer or a glass of fino with some "pescaito frito" or the traditional green hazelnuts.
As usual plenty of concerts and activities are planned for the week-long festival, including fishing and rowing competitions, and the traditional cucaña (greasy pole).
The Velá dates back to the thirteenth century, and you can learn more about its history, and the history of Triana at the "Desvelando Triana" (Revealing Triana) photography exhibit at the Castillo de San Jorge, which is on until August 26th, opening times 10 am – 2 pm (until July 26th you can also visit the exhibit 7 pm – 11 pm).
Velá de Santa Ana
20 – 26 July 2012
Triana