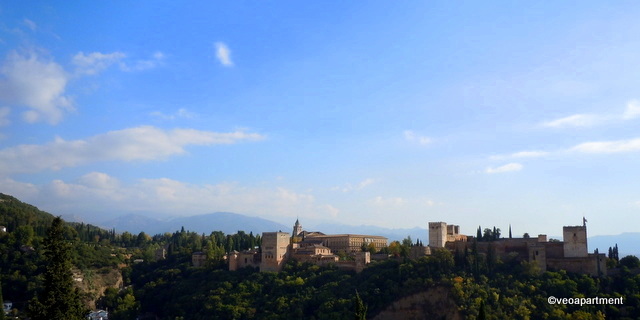 [view from San Nicolás mirador]
If you're in Granada, the main reason is probably that you've come to see the Alhambra. You may already have been inside the complex, wandered around the palaces and gardens, and climbed the towers of the fortifications, or you may still have that pleasure to come. Either way, it's worth the effort of making your way up into the Albaicín, the old Moorish quarter of the city that faces the Alhambra across the deep, narrow valley of the River Darro, for a totally different point of view of this amazing fortress.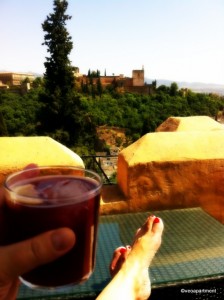 There are a number of miradors (lookout or vantage points) where you can get the best views, of which the best known is the Mirador San Nicholas. From here, you can see exactly why the fortress was considered impregnable. You can also see the the slightly-out-of-place Palace of Carlos V, and the tiny figures of myriad tourists on the walls and towers. Just below the mirador is a little terrace bar and restaurant called the Huerto de Juan Ranas, where you can enjoy the sight with a long, cool, if slightly pricey, drink. A bit further up, but with the advantage of being directly accessible by the little minibuses that serve the Albaicín, is the Mirador San Cristobal.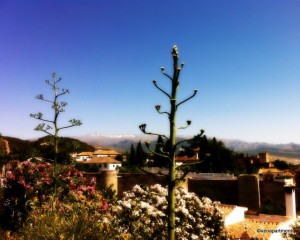 Walking up the hill into the Albaicín is quite strenuous, and the hillside faces south, so the best times to do it, especially in summer, are the early morning or the evening. But whenever you go, be sure to wear comfy shoes! You can find several good tapas bars on the way up. Our favourites are Mesón el Yunque in Plaza San Miguel Bajo and Bar Aliatar in the Plaza Aliatar. If you want to splash out then the Carmen Mirador de Aixa in Carril de San Agustín offers exquisite views and excellent food.
After dark the walls of the Alhambra are spectacularly lit up and it's definitely worth going up a second time, though you may want to take a taxi back down afterwards rather than braving the steep narrow streets, which can be tricky to navigate even in daylight.