Metropol Parasol in Plaza Encarnación
It's barely midday, and already the thermometer is reading meltdownºC. The sun is shining relentlessly, and even the mad dogs have called it a day. Well, okay, it's not that bad, but Seville does get seriously hot in July and August, and even though you're already wearing sunscreen and loose clothing and drinking lots of water you're probably thinking this is a good time to be doing something that doesn't involve walking around in the mid-afternoon sun. How right you are, and here are a few tips for things to do.
First, and perhaps most obvious, is to find a nice air-conditioned bar and order up a round of one, or both, of those two Sevillano summer staples, Gazpacho and tinto de verano (summer wine). Gazpacho is a cold tomato and cucumber soup, thickened with softened bread, that has been called the "Spanish coca-cola" by super-chef Dani Garcia. An alternative is ajo blanco, a cold soup made from ground almonds and garlic, that has been around much longer than the introduction of tomatoes from the new world. Tinto de verano is a mixture of red wine and fizzy lemonade served over ice, usually with a slice of lemon. It's like sangría but lighter and more refreshing, and won't mark you out as a tourist.
Second, go shopping. Not the sort of shopping that involves struggling around with half a dozen heavy bags, but the sort that involves taking advantage of the fact that the shops are air-conditioned to browse as much as you like without having to buy anything (unless you really want to).  Nervión Plaza and the various El Corte Inglés department stores are perfect for indulging in a little retail therapy in air-conditioned comfort.
Take in a movie. The Avenida 5 Cines in Marques de Paradas shows films in original version – and is air-conditioned throughout.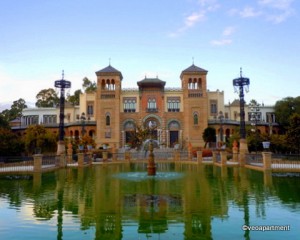 Museums and monuments. The Alcázar palaces and gardens offer plenty of places to take refuge from the sun. Or you could try the Archaeological Museum and the Museum of Popular Culture in the late afternoon, and stroll back through the Maria Luisa Park as it starts to cool down in the evening. Casa Pilatos has shady gardens, and Casa Lebrija a cool Sevillano style patio. You get to look at some cool stuff, too.
If you have kids, the Isla Magica theme park has lots of watery rides and other amusements. A bit pricey, but there's a discount for only going for the afternoon.
Ice-cream. There are several good ice-cream shops to choose from, including a Ben & Jerry's in the Campana, but for the best locally made ice-cream in town head for Rayas next to Plaza Cristo de Burgos or Fiorentina in Zaragoza street.
In the evening take advantage of the breeze at higher altitudes and visit one of Seville's rooftop bars. Roof, atop the Hotel Casa Romana, has a nice eclectic menu and views of the city centre and Metropol Parasol. Both the Doña Maria and the Fontecruz hotels have great views of the cathedral where you can enjoy a cocktail and watch the sun go down.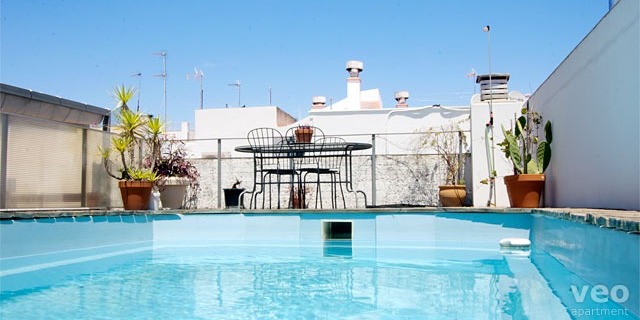 Of course there's no place like home, and cooling off in your own veoapartment swimming pool.