Not everyone's a foodie, but pretty much all of us like to eat, and to enjoy ourselves in the right surroundings while we do it. Many of us also want to do our eating out the way locals do it, and to try some of those typical dishes that everybody knows about (or has at least heard of). So this is a kind of everyman's guide to eating out in Seville, and getting a feel for what tapas is all about, not a gourmet guide to the best restaurants.
Beer and chicharrones (pork scratchings)
First, just to clear the air, there are a few common myths that have to be dispelled. To begin with, tapas is not a kind of food, it's a social custom. The answer to the question, "What Spanish foods have you tried?" is not "We've had some tapas", it's "We've had some calamares and tortilla de patatas." Next, Spanish food is spicy. It's not. You're thinking of Mexico. The Spanish have put up a wall to keep spicy food out (who says travel writers don't do satire?). Paella is the national dish. Actually, it's a local speciality from Valencia, and a proper one isn't made with seafood. Not that you can get a proper one in Seville. Lastly, the Spanish are always drinking sangría. In fact, for everyday purposes the Spanish prefer a tinto de verano – red wine with lemonade and ice, which is more refreshing and less intoxicating.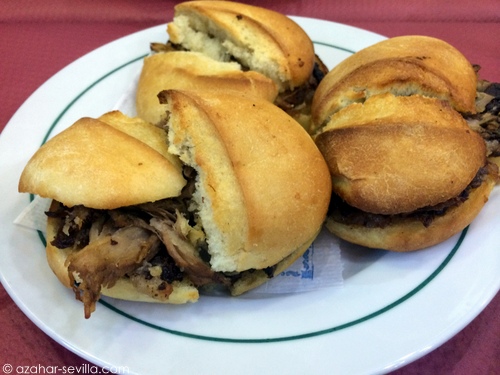 Pringá Montadito 
So, to business. Given that tapas bars can be crowded and noisy, and that there are a lot of them, just deciding which one to go into can be bewildering and intimidating. Doing a bit of homework before you arrive will help. Look for those bars that crop up on lots of lists, not just one. Most important, though, don't be intimidated. In some bars tapas are only available at the bar itself, and at tables or on the terrace you have to have larger plates, but there's no general rule, so you have to check. If there are just two or three of you, sitting or standing at the bar puts you in the thick of things, but four or more it's easier to talk if you're sitting at a table. You can get media raciones (half-plates) para compartir (to share). Don't overdo the ordering. One tapa per person per round is usually good. You can order more if you're still hungry, stop if you're full. If you're not impressed with the first round, you can move on. In any case, moving on is essential to a proper tapeo (the Spanish equivalent of a pub crawl, but more civilised and with proper food.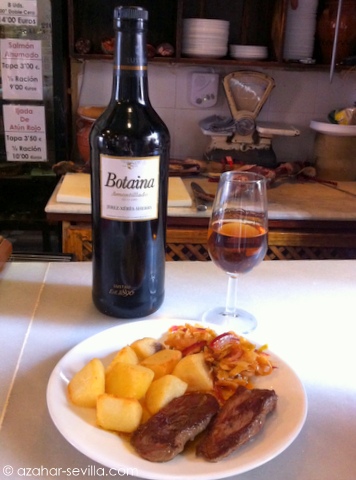 Solomillo al whisky with Amontillado
And speaking of food, what should you be eating? Pork is king, and there are lots of fantastic pork dishes, from carrillada (braised cheeks) to solomillo al whisky (pork tenderloin), as well as blood pudding and tripes for the more adventurous. Cod and tuna are the most common fish, or boquerones al vinagre (marinated fresh anchovies) as a starter. Prawns, octopus and squid are also universally available. I'm often asked if the Spanish eat vegetables, and of course they do – spinach with chickpeas and marinated potatoes are essential. For me, though, the one thing you have to have is our unique Spanish jamón, washed down with some Fino or Manzanilla sherry. If you haven't tried it yet I guarantee an epiphany.
Jamón Iberico de Bellota, Caña de Lomo and Queso Manchego
We have lots of holiday apartments to rent as a base of operations, in all neighbourhoods of the historic centre.