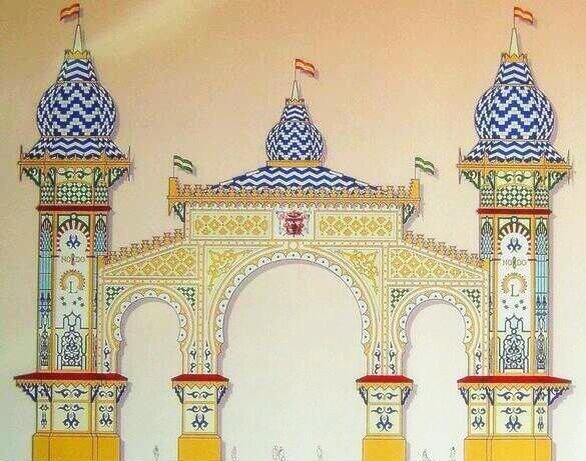 Feria de Abril Portada 2014
The people of Seville have a reputation for knowing how to party, and next week is Seville's biggest party of the year, the April Fair (this year it's actually in May, following a late Easter). If you're looking for the Spain of myth, legend and picture postcard, with señoritas in polka-dot dresses and smartly dressed men on horseback, this is a good place to start. But for a first-timer it can all be a bit confusing and overwhelming, so you'll be needing a few tips on what it's all about and how to blend in with the locals.
The first fair was held in 1847, and was intended as a livestock show and market, but even from the early years it increasingly became an important social event, and by the time it moved to its present site in 1973, it had become the week-long party we know today. That present site is on a large strip of land (reclaimed from the original course of the river) on the southern edge of Los Remedios, across the river from Maria Luisa Park. It's entered through the portada, a specially constructed gateway with a different theme every year. This year's was inspired by the "water kiosks" built in the late 19th century to provide drinking water, and the 50th anniversary of the canonical coronation of the Virgin of Hope of Macarena the following year.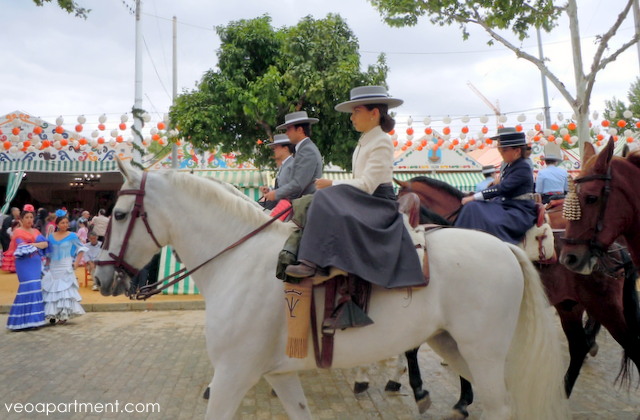 The fair opens officially at midnight on Monday (May 5) with the alumbrada, the switching on of the lights, and ends the following Sunday night with an impressive fireworks display. The streets of the fairground are all named after famous bullfighters and are lined by the casetas, the small decorated marquees that are the focus of the socialising. Most of these are privately owned, either by wealthy individuals and companies, or by professional associations, clubs or groups of friends, and you'll need an invite to be allowed in. But don't panic! There are a number of public casetas run by the city council and neighbourhoods, so you'll still have places to go for refreshment and to watch the dancing and singing.
It's often said that there are really two fairs. The daytime fair is the one with the processions of horses and carriages, mostly owned, ridden or driven by the Sevillian social elite (it is, after all, an activity that doesn't come cheap). They are there to see and be seen, so it's quite an impressive display, with everyone and everything immaculately presented. The rest of us may not be in that league, but you'll still want to look good. Flouncy flamenco dresses will cost you anywhere from 200€ up so you may not want to invest in one for just a short visit. However, a colourful shawl and espadrilles, along with a few bright accessories – flowers for your hair and big plastic hoop earrings – will probably do it for the ladies. Check out Flamenco & Más for some inspiration. Men should probably avoid the traditional traje corte, the short jacket and tight trousers, unless they're really in good shape (and own a horse). Casual smart is the best way to go if you don't want to look too much like a tourist.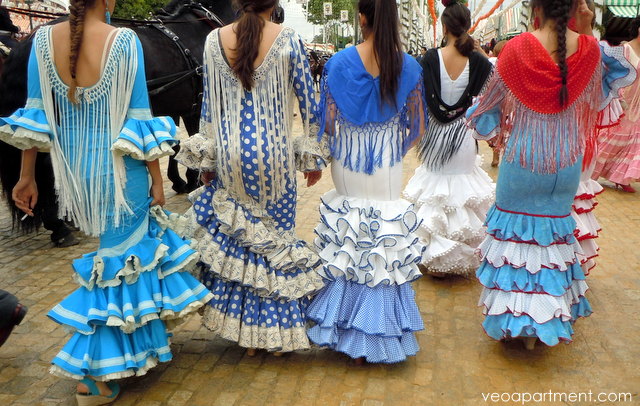 The night fair is for eating tapas and drinking rebujitos (dry manzanilla sherry mixed with 7Up), dancing Sevillanas, and visiting the Calle de Infierno (Hell Street!) for the fairground attractions. By daybreak you should be ready for the traditional breakfast of churros and chocolate, or just head home for bed, depending on your stamina.
This is also the main bullfighting season, so if you want to see a fight go to the Real Maestranza. Best to book your tickets in advance.