Among its many other claims to fame, Seville is known as the birthplace of tapas, those tasty snack sized dishes that accompany your drink in the city's many bars. Although its origins are disputed, there's no doubt that it took on something close to its modern form in the 19th century. Not surprising, then, that there are a number of bars still going strong that were founded in that era, and that still maintain a traditional look and atmosphere. Here's our selection of Seville bars that have passed their 100th birthdays (and in one case a whole lot more).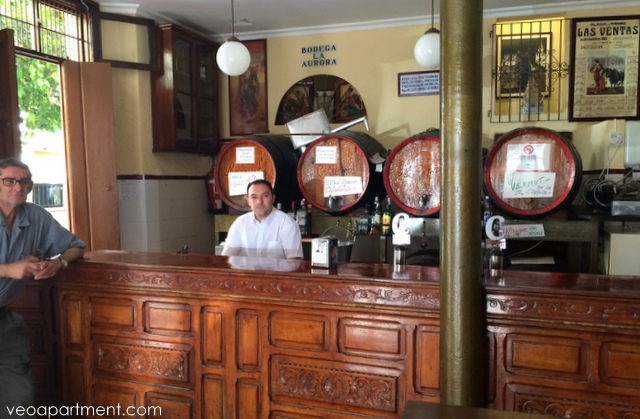 Bodega La Aurora
Bodega La Aurora (Calle Pérez Galdós, 9)
The youngest of our 5 bars, only just making it to the 100-year mark, is La Aurora, near the Plaza Alfalfa, and the brothers Sánchez Ruíz are the fifth generation of the founding family to run it. Although recently refurbished it still maintains the original wood bar and sherry casks, as well as Cruzcampo beer and a traditional tapas menu that includes an ensaladilla that's reputed to be among the best in town, pringá and chorizo al infierno.
Casa Cuesta (Calle de Castilla, 1)
Across the river in Triana, just behind the market, Casa Cuesta first opened its doors back in 1880, and has been a local fixture ever since. The décor, as is so often the case with the older bars, is very much semana santa, bullfights and spring fair, and the food is ultra typical too. Fried fish, croquettes, stews and, their house speciality, urta (fish) a la Roteña (cooked with tomato and peppers).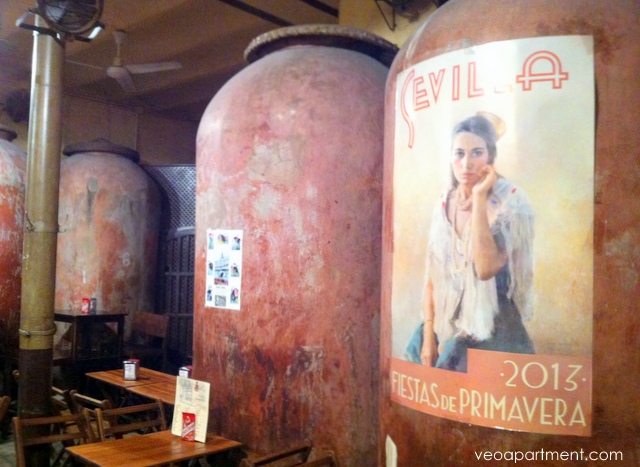 clay wine urns at Casa Morales
Casa Morales (Calle Garcia de Vinuesa, 11)
Founded way back in 1850, Casa Morales just oozes that antique charm, especially if you go in the back bar where the big sherry urns are. They're no longer in use, but are an essential part of the atmosphere, along with the flagstone floors and dusty bottles. Specialities are sherry and a wide variety of cured meat, cheese and fish dishes, which can be had as tapas (on a plate) or served in small buns. It's one of the best places I know to get started on a tapeo (going to various bars for a drink and a bite to eat, the civilised Spanish version of a pub crawl), and shouldn't be missed. You can find it just off the main avenue opposite the cathedral.
Bar Las Teresas (Calle Las Teresas, 2)
In the heart of the old Jewish quarter, the Barrio Santa Cruz, Las Teresas was founded in 1870, and the current owners are now on their third generation. It's one of Seville's most popular bars, drawing in locals and tourists alike, and it's not hard to see why. As well as the typical posters and tilework, it has a nice outside terrace and probably the best array of hams hanging from the ceiling of any bar in town; good service and food, too. If it's free, grab the corner window seat inside, order up a glass or two of sherry and a plate of jamón (or whatever else you fancy), and watch the world go by for a while.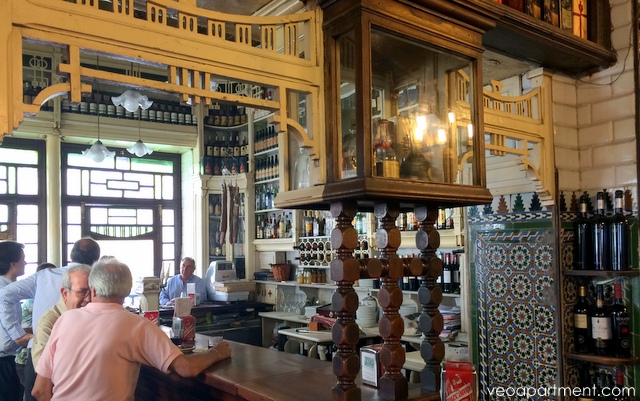 El Rinconcillo
El Rinconcillo (Calle Gerona, 40)
Our last bar, El Rinconcillo lays claim to being the oldest bar in Seville. It was founded in 1670, when Seville was still the only city conducting the trade with the Americas, and Charles II was just making the acquaintance of Nell Gwyn. It still has loads of atmosphere, with tapas eaten standing at the bar (where there still write your account in chalk as you go along), or at upturned sherry casks. It's another "first tapeo stop" kind of a place, but you have to go, just so you can say you've been. El Rinconcillo also lays claim to having the best stewed spinach with garbanzos in town, but we don't agree.