This week we're going to take a look at what's going on in and around Jerez, which can be easily reached from Seville by train or by car, and makes a great destination for a day out. As we all know, Jerez de la Frontera (to give it its full name) is the centre of the Sherry region, and is also world-famous for its horses. Not surprisingly, both of these figure prominently in the Jerez Spring Fair, La Feria del Caballo, which this year is between May 11 and May 18, immediately following the Seville Fair.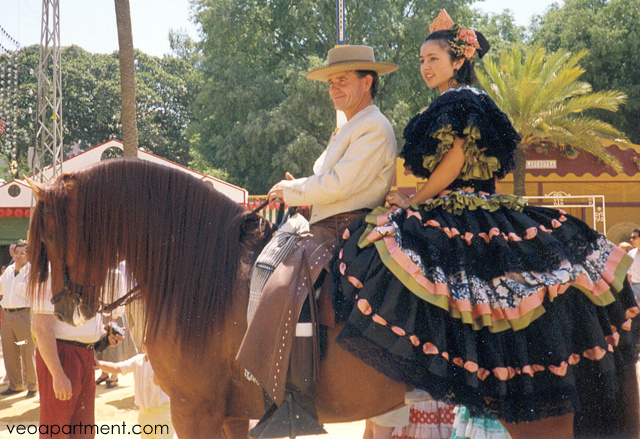 Feria del Caballo in Jerez de la Frontera
The Jerez fair is probably the oldest of Andalucia's horse fairs, with roots going back to the 13th century, and it's also my favourite. For a start it's held in a pretty public park, Parque González Hontoria, rather than a glorified parking lot like many other fairs. There's more space, the great majority of the casetas, including those of the big sherry houses, are open to the public, and the whole thing has a more relaxed, almost genteel, feel to it. The horse and carriage parades are fabulous, even for non-horsy people like me, and for the aficionado there is a commercial horse show and market, Equisur, alongside the main fair. And if you do want a bit more noise and excitement there's always the nearby Calle del Infierno (Hell Street) with all the familiar fairground attractions.
After Jerez, it's the turn of the second of the sherry towns, El Puerto de Santa María, where the Feria de Primavera and Vino Fino runs from May 21 to May 26. As well as the fair, try and fit in a visit to one of the old bodegas, which are fascinating places.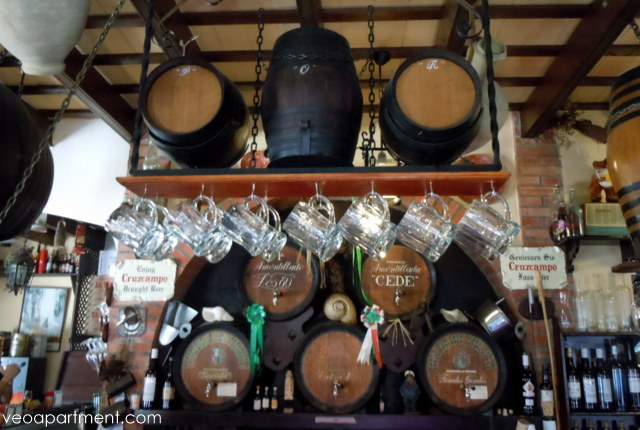 tapas bar with sherry casks in Sanlucar de Barrameda
It's immediately followed by the last of the sherry towns, Sanlucar de Barrameda, whose Feria de Manzanilla kicks off at midnight on May 27 and lasts until June 1. Apart from the usual "fun-of-the-fair", including horses, bullfights and manzanilla sherry, Sanlucar is also a seaside town with a nice beach, a traditional central square with lots of restaurants, and a small but historically important old town, the Barrio Alto.
To while away the time in between you might like to pay a visit to the Vinoble International Exhibition of Noble Wines,  a biennial event in Jerez for fortified, dessert and sweet wines, this year running from May 25-27. This coincides with Jerez being named the European Wine City for 2014 and is the premier international event of its kind, and apart from local producers also attracts exhibitors from around the world. Have fun and find out about some unusual and excellent wines at the same time. To make it a real win-win, the venue is the  Alcazar de Jerez, a stunning combination of Moorish fortress, mosque, palace and gardens.

Last, but not least, if all this has whetted your appetite for all things sherry, June 2 to 8 is International Sherry Week, with sherry events both locally and in 20 countries around the world. There are over a hundred events in Spain alone so have a look at the website for those taking place in and around Seville.