Anybody taking a short holiday in a new place is faced with the problem of prioritising their time, making sure that they see the things that are genuine "unmissables", and foregoing some of the less important, while still having the opportunity to relax a bit (it's a holiday after all). A lot of this will revolve around the sights and monuments, but these days experiencing the best of local culture and customs is high on many people's list of things to do. For these people I have one very important piece of advice. Do not, on any account, leave Seville without doing the ham and sherry thing.
There are lots of reasons for this. First of all, of course, is that it's a pleasurable culinary experience, regardless of the social and cultural stuff that comes with it, but I'm going to take that as read and concentrate on the other aspects, the ones that make it an essential part of coming to Spain.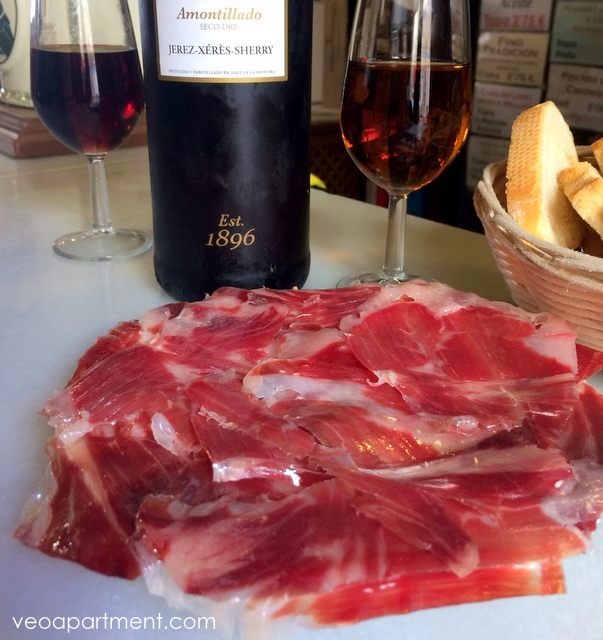 jamón Ibérico with Amontillado
So let's begin. With more than 3,000 tapas bars to choose from in Seville, and ham and sherry available in almost all of them, where should you go for the most authentically Sevillano experience? Personally, my top choices are the more traditional bars, places with hams hanging from the ceilings, Semana Santa and Spring Fair posters on the walls, and all the other paraphernalia that give a bar a special atmosphere. Favourites include Bar Las Teresas in the Santa Cruz, Casa Morales in the Arenal neighbourhood, and Taberna Manolo Cateca in the city centre.
Why sherry, and what exactly should you be ordering? As an aperitif to accompany ham and other starters you should be choosing a dry white sherry. Fino, Manzanilla or Amontillado are all suitable companions to your plate of jamón. But what's so special about sherry? Sherry is possibly the world's most misunderstood wine. Many people outside Spain still think of it as a dark, sweet wine (and there are sherries like that), but dry pale sherries are a totally different thing. The grapes are grown, and the wine aged, in southwest Spain, making it a genuine local product that has developed over the centuries into a perfect pairing for the food, and it should be sipped while you eat (it changes the flavour of both wine and food), not drunk beforehand.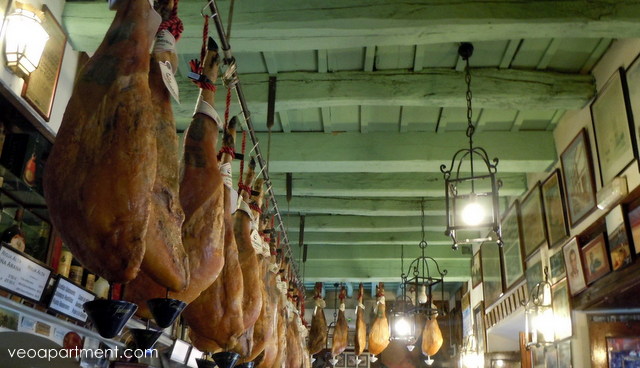 jamones at Las Teresas
It's traditionally taken with cured meat and cheese, first and foremost with the famous Jamón Iberico Bellota. This is made only from the Spanish black-footed (Ibérico) pig, which is unique to Spain and Portugal (no pig-smuggling allowed!), raised free-range on a predominantly acorn (bellota) diet, salt cured and then aged in the air in special warehouses that maintain "cellar" temperatures for a minimum of two years. Also have caña de lomo, prepared the same way, but from the back of the pig, chorizo (sausage seasoned with garlic and paprika), and an aged cheese such as a Payoyo, all very typical of southern Spain.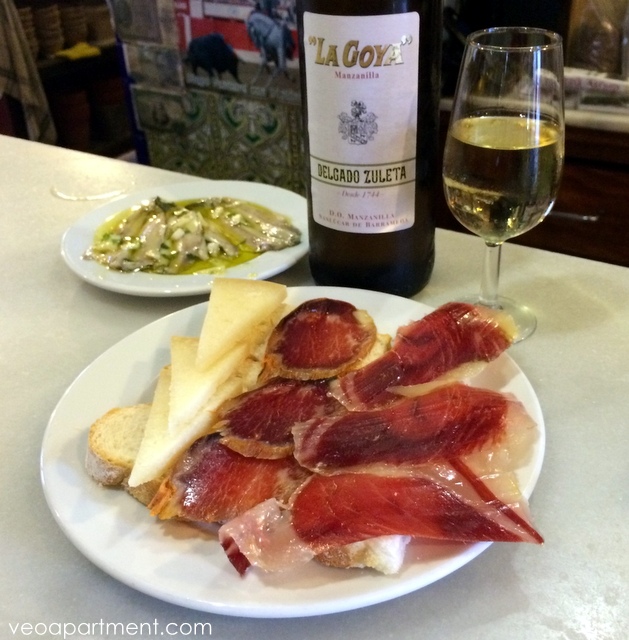 cured sheep cheese, caña de lomo & jamón Ibérico with Manzanilla
There are few things that can compare to ham and sherry, consumed in its natural home in an old tavern in Spanish Spain. So book your apartment and get out here and enjoy it.
And there's lots of other good stuff too, from the sunshine to magnificent palaces….