Valentine's Day is almost upon us, and the best places to spend a romantic weekend are rapidly filling up. But don't despair if you're the sort of person who leaves these things till the last moment; we still have holiday apartments for rent in two of Andalucia's most beautiful destinations, Seville and Granada.
Both cities are famous for the picturesque narrow streets of their old towns, the exotic splendour of their Moorish style palaces (especially Granada's Alhambra on its hilltop), and their Cathedrals (especially Seville and the iconic Giralda Tower), as well as the lively bustle of their tapas bars and the rhythms of flamenco. But for that special holiday you also need that perfect base of operations, and for that you can't beat a cosy little apartment in the thick of the action. Here are some that are still available.
Granada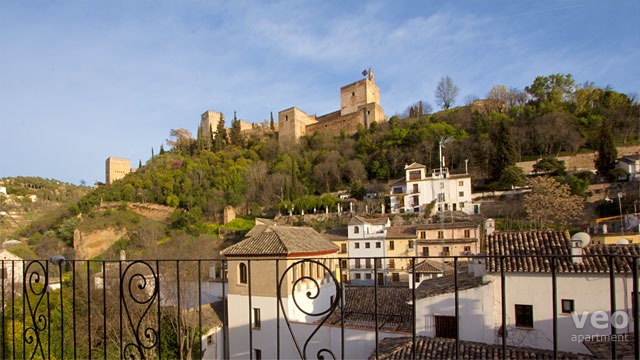 Carnero – A charming one bedroom apartment in a Casa Palacio with an inner courtyard full of plants, located in the maze of streets just off the River Darro in the heart of the city. Wood beam ceilings and wood flooring give it a warm traditional feel. Highlight is the view of the Alhambra Palace from the large balcony outside the bedroom.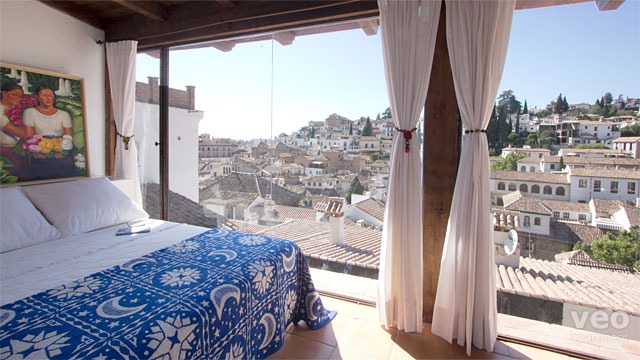 Carmen Terrace 1 – A cosy studio in a Casa Carmen (a house with a walled garden unique to Granada) on the Alhambra Hill, with a private terrace and garden area. Highlight is the glass wall that runs along one side of the apartment with a breathtaking view of the old Moorish quarter.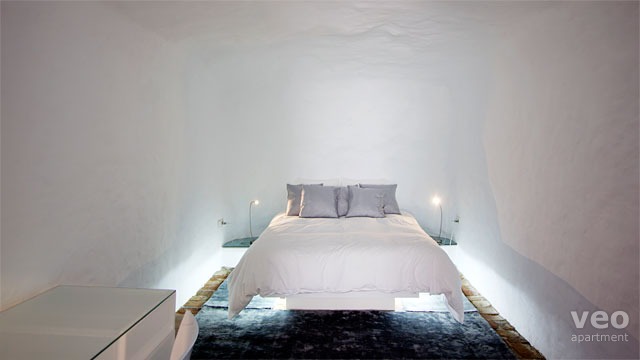 Sacramonte Cueva 2 – Once in a lifetime experience is this one bedroom cave house (with all mod-cons) in the famous Sacramonte neighbourhood, high enough up to be above the Alhambra. It's the gypsy-bohemian part of the city, and it's worth going to one of the flamenco shows in the caves here. Highlight is really the totally unique atmosphere of the cave itself.
Seville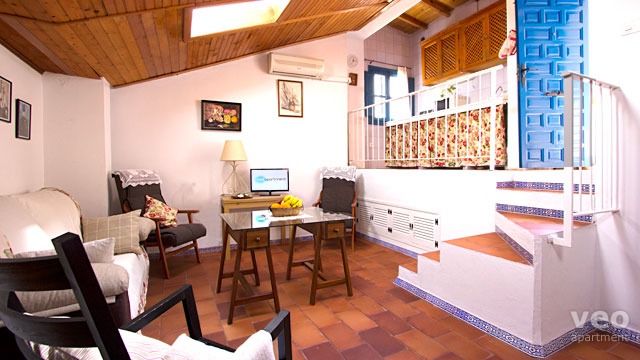 Flores Terrace – This little studio apartment has it all. Rustic and colourful with its own private terrace, terracotta floors and wooden ceilings, in a Casa Palacio with a beautiful courtyard. Highlight? Click on the link and check out the cute bathtub.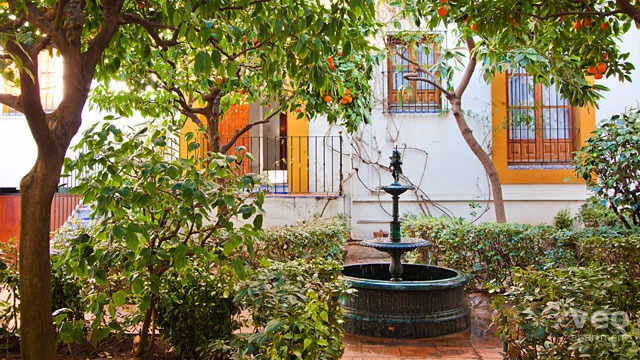 Plaza Santa Cruz B – One bedroom apartment in a typical Sevillano town house in the heart of the Santa Cruz neighbourhood, complete with courtyard and fountain. Highlight is the perfect location, close to everything, but still quiet and peaceful.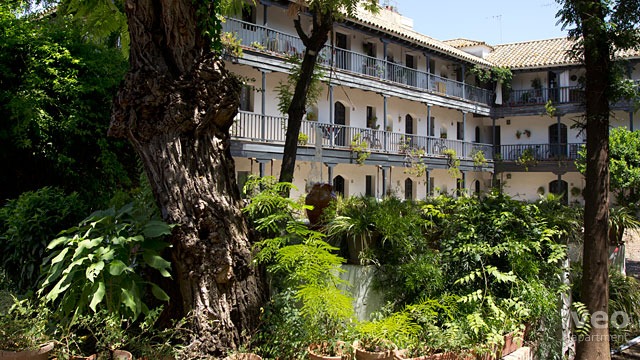 Corral del Conde 54 – This cute little apartment is in a remarkable 16th century housing complex built around a large communal courtyard. Greenery, wooden balconies, great Spanish atmosphere. Highlight must be the sense of living in the middle of the history of ordinary people.
Giralda Terrace 1 – The pick of anybody's bunch must be this spacious luxury studio with a private terrace. Just have a look at that view of the Giralda. And it comes with complimentary flowers and bottle of wine, too.