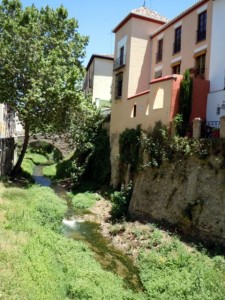 If you're visiting Granada you will certainly spend a lot of your time exploring the Alhambra and the Albaicin, but one of my favourite walks is up the narrow valley between the two, alongside the little River Darro, which is like a little world of its own.
Start from the Plaza Nueva, the "New Square" built in the decades after the fall of the Moorish city to the Christian conquerors in 1492. The river runs in a culvert beneath the square, which as well as the imposing Royal Chancellery is home to lots of tapas bars and cafes, where both locals and tourists can enjoy a coffee or a cold beer in the fresh air.
At the far end of the square is the church of Santa Ana, with the battlements of the Alhambra on the hill looming behind it. Beyond Santa Ana the river is in the open air, and despite the setting in the heart of the city tumbles between its rocky banks as playfully as the mountain stream it originally was. A pair of late mediaeval bridges lead into a small residential district perched on the side of the Alhambra hill, with some of the houses built on outcrops directly above the river. See if you can spot the remains of the Puente del Cadi, the original Moorish bridge demolished in the 17th century.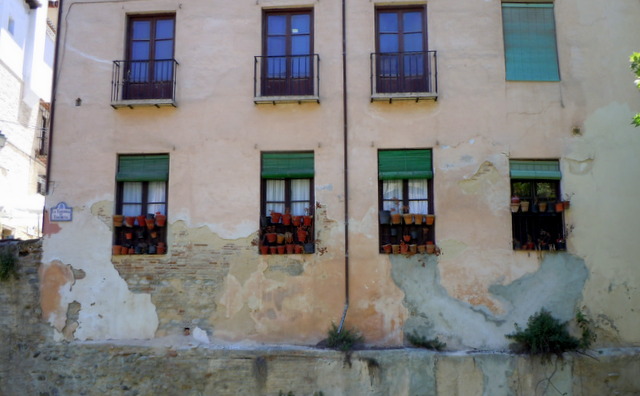 Take time to stop off at the magnificent Arab baths, which are among the oldest and most complete in Spain, and enjoy the cool quiet of its courtyards. A bit further up is the Archaeological Museum.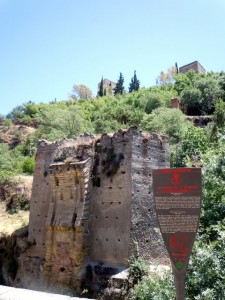 At the top of the street you come out into an open space called the Paseo de los Tristes (the Promenade of the Sad) because beyond it is the old cemetery. Nowadays, it's a place to stop for refreshment at one of the bars and enjoy the view of the Alhambra across the river. The rather forlorn looking building on the opposite bank was once a hotel, but because of continual problems with damp it was never popular, and was abandoned.
At the end of the Paseo you have the option of turning left into the Albaicin, or crossing the Aljibillo bridge and taking the Cuesta del Rey Chico (Way of the Little King), which leads around the Alhambra Hill between the main fortress and the Generalife Palace. There's normally not too many people along here and the climb along the old cobbled path gives you a sense of place and time that more travelled ways often miss.
To be perfectly placed for the start of the walk rent one of our apartments in the Plaza Nueva.