Seville's famous Feria de Abril has come and gone for another year but in case you missed it here are three more upcoming fairs that you can visit from Seville.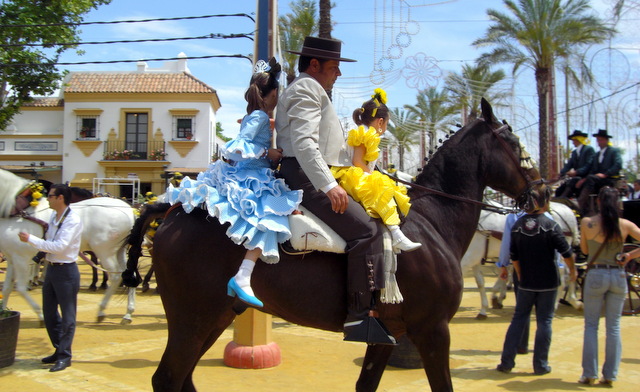 Puerto de Santa Maria
Puerto de Santa Maria's Spring Fair and Festival of Fine Wine got under way yesterday (24 April) and finishes on Monday.  This cosy coastal town is at one corner of Andalucia's "Sherry Triangle", and although this is a relatively small and local fair, it incorporates  a festival to celebrate the first fruits of the new year, as well as the usual horses and carriages, casetas and a funfair.
Jerez
The Jerez Horse Fair (Feria del Caballo) takes place in the Parque González Hontoria between 6 May and 12 May 2013. Of all the fairs, Jerez has maintained most closely the atmosphere of a "horse fair", so if you're really into horses this is the one for you. It's also a very open fair – almost all the casetas are public, rather than private as they are in Seville, and because it's in a park, rather than a "fairground", it's also surprisingly pretty. There's a short bullfighting festival from the 9th to 11th, horse shows, a funfair for the kids, and as you would expect, plenty of sherry for the grown-ups.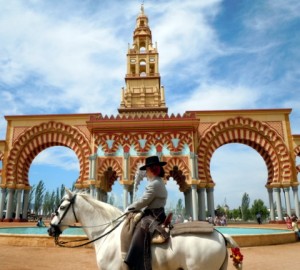 Córdoba
The Feria de Córdoba runs from May 25 to June 1 on the municipal fairground, near the river to the east of the Mezquita. There is all the usual things to do, with horses and carriages by day, a funfair and impromptu Sevillanas. Although most of the casetas are privately owned the public are allowed in, so it's less cliquey and exclusive than the Seville fair, and so more fun for visitors. And the larger casetas even have air-conditioning!
All three fairs are easy and comfortable to get to as a day trip by train, but if you want to watch the opening and closing firework displays, or sample the night life into the wee hours of the morning, you'll need an overnight stay.