Although Seville is acknowledged as the "capital of tapas", most towns and cities in Andalusia have a thriving tapas culture that is a little different in each place, and Granada is no exception. There are plenty of local hangouts all over the city, but the streets around Calle Navas and Plaza del Carmen are "tapas bar central", and give you a nice range of choices in a relatively small area.
One feature of the Granada tapas scene that seems unique to that city is the many bars that offer a "free" tapa with your drink. But beware! As the man said, "There is no such thing as a free lunch". It's actually included in the price of the drink, which makes the drinks more expensive in Granada than in other Andalusian cities as a result.
These are our recommendations for five of the best places to eat in Granada, from cheap and cheerful to upmarket gourmet tapas.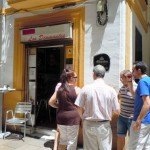 Los Diamantes
Their are two of these, but the original eatery in Calle Navas is still the best (the second location in Plaza Nueva is very touristy). Fried fish is the speciality of the house, but the thinly sliced fried aubergine (often served as the first "free" tapa), is not to be missed.
Navas 26
Tel. +34 958 227 070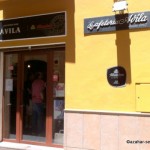 Bar Avila
Busy little bar where you can choose your "free" tapa. The "jamón asado" (a bit like a ham donaire kebab) is the house speciality. There's lots of good seafood, too, but give the fried octopus a miss.
Veronica de la Virgen 16
Tel. +34 958 263 928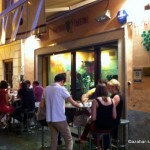 El Mentidero
A friendly local bar with excellent traditional tapas, including some meat dishes that you grill at the table on a hot stone, for which it is justly famous. Owner and maître d' Fiti will take good care of you and make you feel at home.
Piedra Santa 15
Tel. +34 677 862 459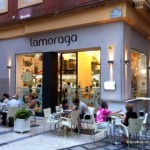 La Moraga
A branch of the gourmet tapas chain, and a relatively new addition to the tapas scene in Granada, La Moraga has some great tapas and excellent wine at reasonable prices, in a very comfortable and spacious bar. There is also a nice sidewalk terrace. Make sure to order the bulltail burger, the speciality of all La Moragas everywhere.
Rector Morata 3 (just off Plaza Carmen)
Tel +34 958 221 507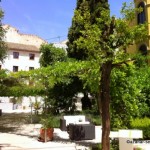 Senzone
A short walk away from the hustle and bustle of the city centre, the Senzone restaurant is hidden away inside the beautiful shady gardens of the Palacio de los Patos Hotel is an oasis in the centre of the city where you can stop in for anything from a couple of tapas to a full meal, and enjoy them in calm, peaceful surroundings.
Solarillo de Gracia, 1
Tel +34 958 53 57 90