Seville | Affordable Garage Parking
Many guests at our Seville apartments stay there as part of a longer trip by car through Andalusia or other regions of Spain. For these travellers, a convenient and affordable parking space close to their apartment is of vital importance. We know that for many this is almost as important in deciding where to stay as the apartment's design and location.
Here's a brief overview of parking options when you stay at one of our Seville apartments:
1. Apartments with a private parking space
Some of our apartments have a private parking space either in the building, or nearby. In the photo you can see a typical example, the Plaza Santa Cruz A apartment, which is located in the famous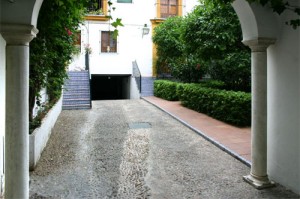 Santa Cruz neighbourhood, in the very centre of Seville, which has a parking garage under the building.
Other apartments with private parking include Ibarra Terrace, also in the Santa Cruz and featuring a rooftop swimming pool, the Hernandez apartment in El Centro, and also the Font Terrace and San Lorenzo Penthouse apartments which are in the San Vicente neighbourhood. All of these not only have parking available, but the apartments are decorated and equipped to the highest standard to ensure you enjoy your time in Seville.
2. Public parking for 10 Euros per day
Veoapartment has an agreement with 3 public parking garages in Seville for a budget parking rate of only 10 Euros per day.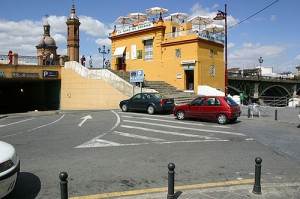 The car parks are all on or near the ring road around the historic centre of Seville. All our apartments are within a 15-minute walk of one of them, though most  are closer.
The photo shows the "Mercado de Triana" car park, at the end of the Triana bridge, on the corner of calle Betis and the Plaza del Altozano. It is next to the Triana food market, which gives it its name.
It is necessary to register as a user of the car park to receive the reduced rate, but registering has the advantage that you receive a permanent user card, which allows you to leave and re-enter the car park as often as you want.
Keep in mind that the parking space has to be reserved with us in advance.