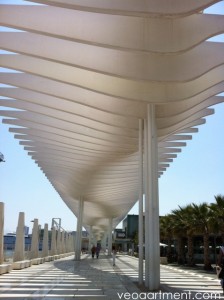 Below the historic centre and the walls of the old Alcazaba, the Moorish fortress and palace, lies one of Malaga's prettiest areas, the gardens of Malaga Park and the harbour.
Malaga has been an important port ever since the Phoenicians first arrived here nearly three thousand years ago, but these days much of the commercial life of the port has been moved to modern installations in the outer harbour, and the inner harbour, now called Muelle Uno (Quay One) has been redeveloped as a tourist attraction with a marina and shopping centre.
It's modern and open, lined with palm trees, and looks every inch a Mediterranean playground. As well as the shops there are play parks for the kids and plenty of bars and restaurants where you can enjoy a bite to eat (and drink) while looking out across the harbour with the sun sparkling off the water. And if you're a real foodie you'll want to eat at Restaurante José Carlos García, Malaga's only Michelin star restaurant.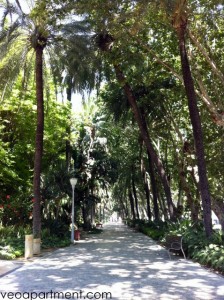 Alongside the harbour is the long promenade of Malaga Park, and one of the joys of a lazy summer afternoon is to stroll along its shaded paths, admiring the exotic plants and statuary, and relaxing beside the central fountain. Across the Alameda are more gardens, with quiet pathways winding around the Alcazaba to the Customs house, currently being renovated as a museum. It seems a world away from all the hustle and bustle, but once you're refreshed it's only a few minutes walk back to the old centre.
We have holiday apartments to let in the historic centre, in ideal locations to enjoy your stay in Malaga. You can also check out our Malaga information pages for insider tips on places to see, upcoming events and great places to eat.