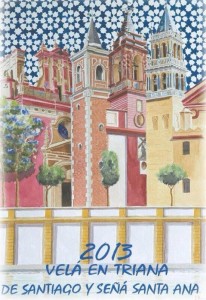 It's the middle of July again, and that means it's almost time for Triana's big annual street party, the Velá de Santiago and Santa Ana. This year the festival kicks off on Sunday, July 21 (the traditional switching on of the lights, the alumbrado, is at midnight, but things get started early in the day with a fishing competition at 8.00 am), and lasts until midnight on the 26th.
As always, a variety of food and craft booths will be set up along Calle Betis, where you can refresh yourself with a cold beer or a copita of fino sherry, and sample the local fried fish and green hazelnuts. There will also be a small funfair for the children, and a stage in the Plaza Altozano for the nightly musical and theatrical performances.
Triana has been honing its party skills since the Velá was established way back in the 13th century, which makes it Seville's oldest local festival, and as usual there are plenty of concerts and activities planned, including traditional games (every morning in Calle San Jacinto), football competitions, and of course the Cucaña every evening at six, where competitors have to get to the end of a greasy pole projecting above the river from the prow of a boat, and the prize is a rosy glow of achievement, to be followed by the rosy glow of a beer or three. Salud!
For a ringside seat book one of our Calle Betis holiday apartments.
Velá de Santa Ana
21 – 26 July 2013
Triana