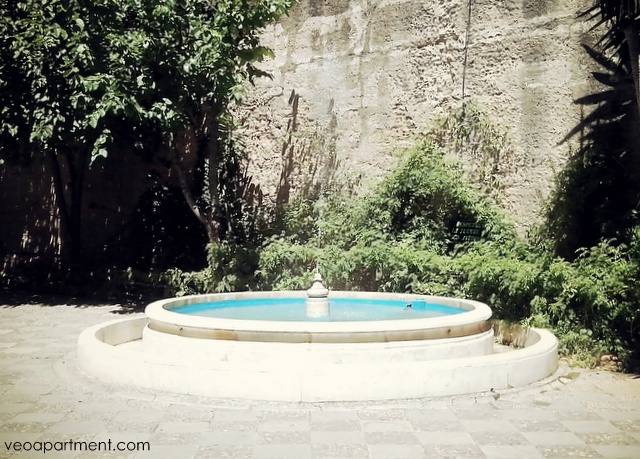 fountain in Plaza Cabildo
Chances are that if you come to Seville you're going to do all or most of the standard tourist sights – the Cathedral, the Alcázar, the Plaza de España and the Metropol Parasol are my personal big four, and are worth a few hours of anybody's time, and there are other well-known attractions, too. But there are other places, each with their own special charm or story, that you quite probably wouldn't find, or whose significance you wouldn't realise, unless they were pointed out to you. They're not really secret, of course, but some of them are hard to find (others are hidden in plain sight), but I think they're all worth making the effort to visit. There are a few others that didn't make the final cut for one reason or another, such as the Atarazanas, Plaza Doña Elvira or the Corral del Conde, and other locals could probably add some more, too. But here are my personal seven favourite secret corners of Seville.
Roman Pillars in Calle Marmoles
On the corner of a couple of quiet residential streets between the Barrio Santa Cruz and the city centre you might stumble across three pillars that are all that's left of a Roman temple. These are the oldest structures still in situ in Seville, though two more columns from here can be seen at the entrance to the Alameda de Hercules. Their rather humdrum location just makes their age all the more impressive.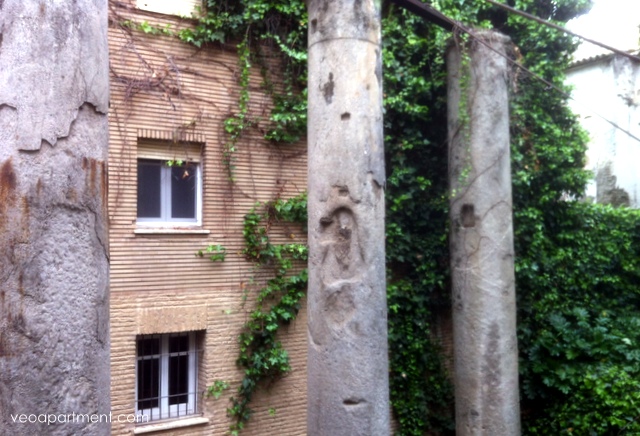 pillars of Roman Temple
The Judería Wall in Calle Fabiola
Okay, it's just an unremarkable short section of ten-foot high wall, with no plaques or memorials to tell you what you're looking at, but this is, in fact, the only remaining section of the wall that once enclosed the late mediaeval Jewish quarter, separating it from the rest of the city. A good place to stop and ponder on human stupidity for a moment. Then go and have a beer.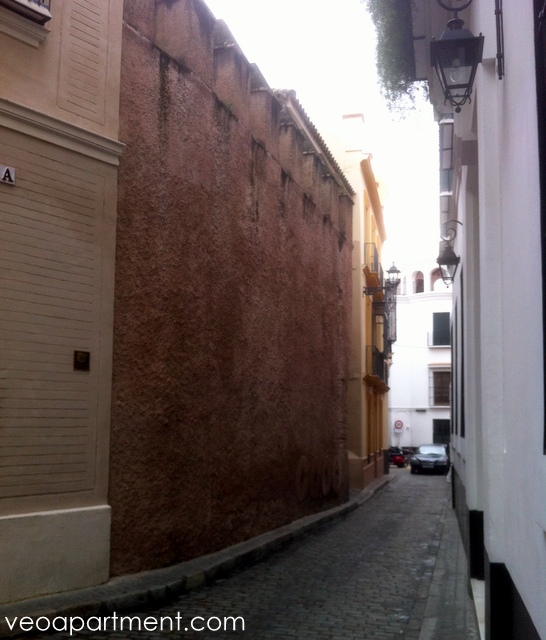 the Wall of the Juderia
Plaza Cabildo
The Plaza Cabildo is a half-moon shaped square that can be reached through a covered passageway directly opposite the main entrance to the cathedral on Avenida de la Constitución. The flat side is part of an old internal city wall, but the semicircular building with the decorated "eaves" is from the 1930s. Of interest is a little shop that sells confectionary and other items made in some of Seville's convents, named El Torno after the little turntable that kept you from seeing the nuns, and on Sundays there's a collectors' market.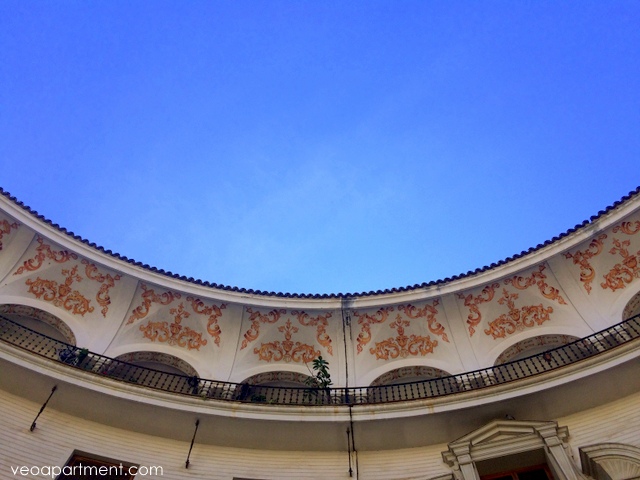 detail – Plaza del Cabildo
Plaza Santa Marta
This is another little square that you probably wouldn't find if you didn't know it was there. It's at the end of a little alleyway behind the statue of the Pope in the Plaza Virgen de Los Reyes, which in less time than it takes you to say "Where does this go?" leads you from the bustle of the city centre to a quiet, secluded nook shaded by orange trees. Purely coincidentally the collectors´market was held here before it relocated to the Plaza Cabildo.
Baths of Doña Maria Padilla
This is one of my favourite places in the whole of Seville. They can be found in (or at least under) the Alcázar Palace. They're rather inappropriately named, being neither baths, nor belonging to Doña Maria Padilla, although she was contemporary, being the mistress of Pedro I, who built the main palace. They are, rather mundanely, rainwater tanks storing water for the gardens, but the long vaulted chambers, the play of light on the water and the muffled quiet make this quite unique.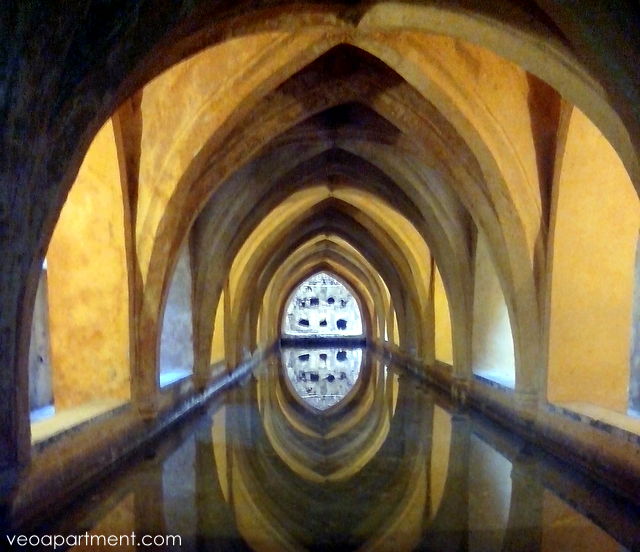 Baths of Doña Maria de Padilla
Casa Moreno
This little abacería (a small specialist food shop with a bar in the back) in Calle Gamazo has an atmosphere all its own. Don't be intimidated by the fact that it looks semi-private and is full of locals, it's really very friendly. Just go in, and have a beer and a couple of montaditos, and come away with that feeling you've touched the soul of Seville.
Plaza de la Escuela de Cristo
This tiny square, not much more than a patio, between the Santa Cruz church and the seminary, is the closest thing to a real secret on this list, as it's only semi public, the entrance door (at the end of an alley off Calle Ximenez de Enciso) being locked at night. But with its cobblestones, orange trees, fountain and a cross in one corner it has an undeniable special charm.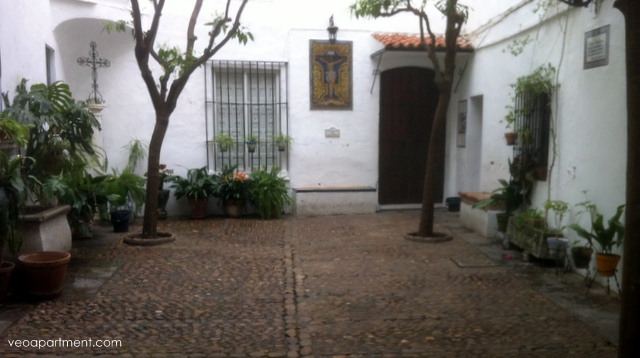 Plaza de Escuela de Cristo
In addition to these there are hundreds of buildings with charming courtyards or ornate decoration. Many of our apartments in the historic centre can be found in such locations, making you feel a part of this beautiful city.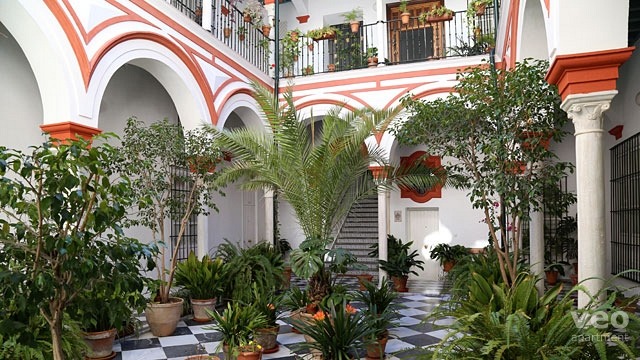 Patio San Isidoro apartment building