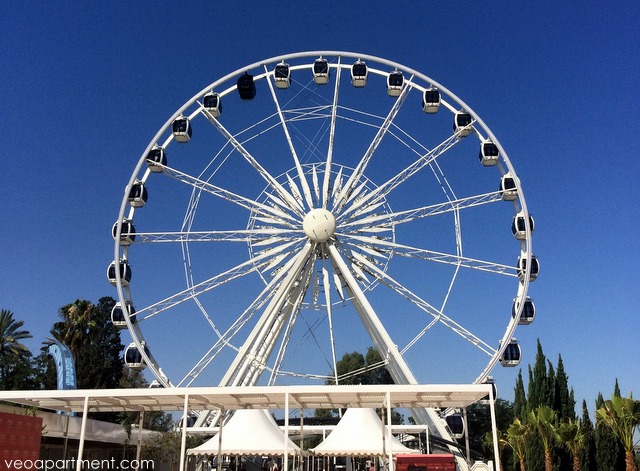 Seville's latest tourist attraction, La Noria de Sevilla (Seville Ferris Wheel), opens for business this Saturday, June 27, following its inauguration on Thursday. Situated at the end of the Muelle de las Delicias, where visiting cruise ships dock, it's part of a new "tourism hub" to the south of the city's historic centre that already includes the Seville Aquarium and riverside bars and restaurants, and connects directly to Maria Luisa Park and the Plaza España, and by the riverside walkway, the New York Wharf, to the historic centre.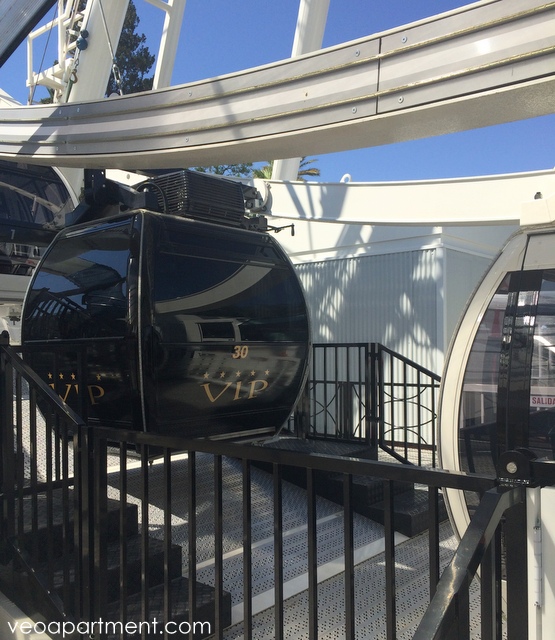 the VIP cabin
The wheel was manufactured in Germany and shipped via Rotterdam to the port of Seville, and has been erected on a specially prepared plot of land between the aquarium and the port entrance. The project cost over 7 million euros in total, and the new wheel is expected to attract 350,000 visitors a year, also benefiting the aquarium (there is expected to be a joint ticket for both attractions available) and local businesses.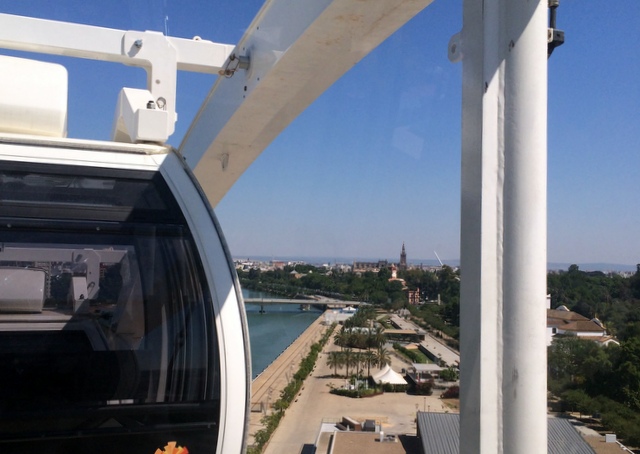 a different perspective of the Cathedral
The wheel is 40 metres in diameter, and will take riders up to 50 metres above ground. Although this is quite modest compared to, for example, the London Eye (135 metres), or the Las Vegas High Roller (at 167 metres the world's tallest), it will provide great views of the river, the park, and the World Heritage sights. There will be 30 cabins and for 7.50 euros (5.50 for children under 4 years old) you get to go round four times, which takes just under 15 minutes. There is also a VIP cabin for 20 euros, with darkened windows for privacy, a glass floor and television, which lasts twice as long. All of the cabins are air-conditioned with optional music, and a "help button". Coming soon: a shop, a tapas bar and cafeteria, and a VIP area.
If you're looking for a place to stay we still have apartments available to rent in the historic centre within easy walking distance of the wheel and other sights.
La Noria de Sevilla
Muelle Las Delicias
Open: 10 am – Midnight