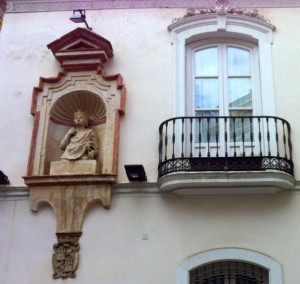 On a corner of a quiet residential street just off the Plaza Alfalfa, in a niche at the level of the first floor balconies, you can see a statue of the upper body and crowned head of one of Spain's mediaeval kings. The name of the street, Calle La Cabeza del Rey Don Pedro, serves to identify him as King Peter of Castile and Leon, known as "The Cruel" or "The Just", who ruled in Seville from 1350 to 1369, and is probably best known for his palace in the Alcázar.
The story of how and why his head came to be there is part history and part urban legend (or at least there is more than one version of the history). It is said that one night the king was walking the streets of Seville, alone and incognito, either in pursuit of an "affair of the heart", or to test the claim of the mayor, Domingo Cerón, that no crime committed in the city's streets went unpunished. In the course of his journey he became involved in an altercation with a stranger, swords were drawn, and Peter killed him.
During the course of the fight an old woman, aroused by the noise, came to her window, and by the light of a candle, saw the men fighting and the striking of the fatal blow. As Peter fled the scene she dropped the candle in fright into the street below.
The next morning word came to the king's ears that a nobleman of the house of Guzman, who supported the claim to the throne of Peter's bastard half-brother Henry, had been assassinated, and that a witness to the crime, the old woman, had been found.
When the king questioned her, he realised from her description that he himself was the assassin. Having already promised that the killer would be found and his head hung upon the wall, the king was in a quandary. Nevertheless, shortly afterwards, the king presented a box, which he said contained the head of the murderer, to be hung on the wall where the killing had occurred.
When Peter died the box was opened, and was found to contain a plaster bust of his head. The street was renamed "Cabeza del Rey Don Pedro" as a reminder of his duplicity, and the adjoining street became "Candilejo" (candle) for the light that had revealed him to the old woman.
Apartments close to the scene of the crime include Ibarra Terrace and Corral del Rey Terrace.