Here at Veoapartment Headquarters we pride ourselves on the quality and variety of our apartments. Whether small or large, open-plan or with cosy rooms to snuggle up in, we go to a lot of trouble to make sure that all our apartments are top quality and that they are in excellent locations, so that all you have to do is relax and enjoy your holiday.
At the top of the range, though, are some apartments that just make us go, "I want to live here. Forever." They don't have to be big, though most of them are certainly spacious. Large windows and lots of light are a common feature, together with terraces and balconies. Furnishings may be chic and modern, or in the classic style, but always include all those little conveniences we can't do without, especially in kitchens and bathrooms, air-con to keep you cool in summer, and internet access to keep you connected. What they have in common above everything else is that feeling of being special – that combination of luxury with good taste and interesting spaces, all in excellent locations, that makes these very select apartments such a perfect home from home.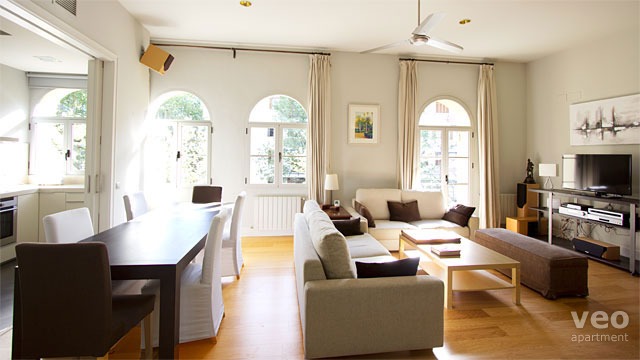 The first of three of our special favourites is Marques Paradas (the name is not actually Spanish for paradise, but we think it should be), a contemporary modern three bedroom duplex apartment in the Arenal for up to six people. Big double-glazed windows let in lots of light and keep out any noise, and even in the heat of summer central air conditioning and ceiling fans keep it pleasantly cool. Light colours and wood floors add to the sense of space, and the decorations include original artworks. There's a modern kitchen next to the dining area, and the option of eating out on the terrace.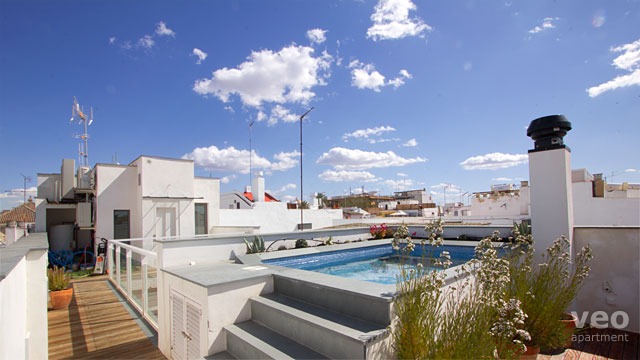 The second is Teodosio Terrace, another three bedroom apartment for up to eight people, complete with its own private rooftop swimming pool on a spacious terrace. Wood floors, underfloor heating and air conditioning keep it comfortable all year round. Big windows and a private balcony round the interior patio give plenty of light, and the three bedrooms all come with lots of storage space and modern en-suite bathrooms.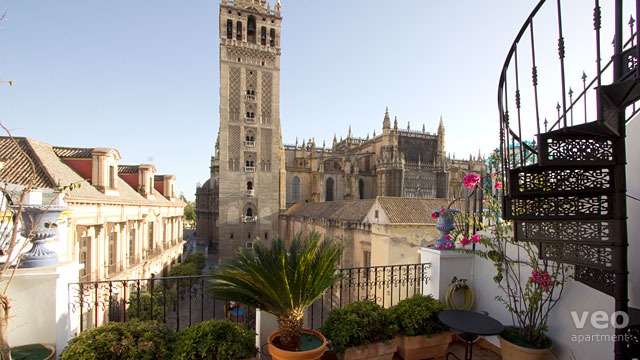 The third, and most luxurious of all, is Catedral Terrace, a Sevillano townhouse with two terraces and a superb view of the Cathedral and Giralda tower. The house has its own interior patio complete with fountain and other traditional elements such as wrought ironwork, tiling and carved doors, as well as all the modern necessities, including WiFi, air conditioning and a modern kitchen. Four bedrooms and bathrooms give plenty of space for up to eight people, and the living room has classical style sofas and chairs.
This is definitely a case of "how the other half live", and we'd trade places with them anytime.