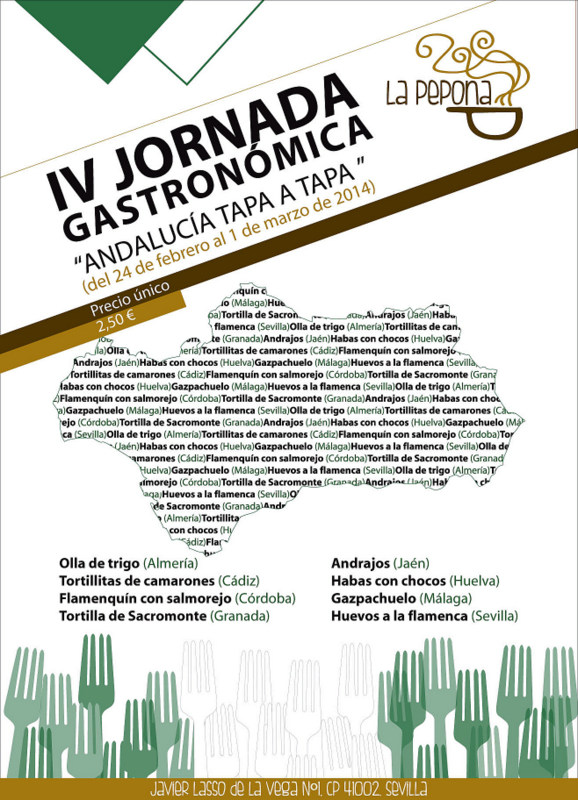 At veoapartment we like our fiestas as much as anyone and, as February 28 is Andalucia Day (marking the date of the referendum that gave Andalucia its Autonomous Region status), we thought we'd take the opportunity to treat ourselves to something special. As you all probably know, Andalucia is the southern region of Spain, famous for its sunshine, beaches, palm trees, flamenco and bullfighting. It is also the birthplace of the tapa, so what better way to celebrate than with an Andalucian tapas lunch?
Luckily one of our favourite tapas bars, La Pepona, had a similar idea and is holding one of its regular gastronomic events this week. This one is in honour of Andalucia Day, featuring a traditional tapa from each of Andalucia's eight provinces, a "tour de food" of the region without leaving Seville. And with the help of two serious professional eaters – @SVQconcierge and @SevillaTapas – we managed to visit every province. So if you're in town this week we highly recommend stopping by La Pepona and trying some or all of these very special dishes priced at just 2.50€ each. Veo approved!
As well as great food La Pepona has an exceptional wine list and lots of options by the glass. Ask front of house "show man" Juanlu to suggest something for you.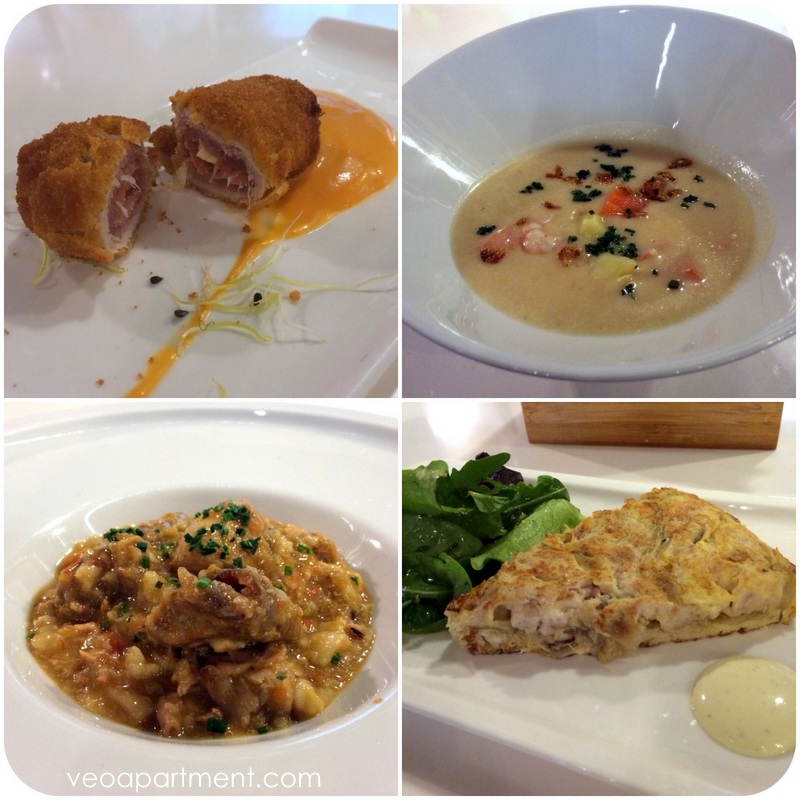 Flamenquin con salmorejo (Cordoba) | Gazpachuelo (Malaga)
Andrajos (Jaen) | Tortilla de Sacromonte (Granada)
Flamenquin con salmorejo (Cordoba)
Two for the price of one here. Flamenquin is ham and cheese rolled up in batter and fried, and salmorejo is the traditional Cordobes cold tomato soup. Thicker and creamier than gazpacho, it's one of my favourite sauces.
Gazpachuelo (Malaga)
From the name you might expect this to be a tomato soup, but this is from Malaga, so it's actually a fish and prawn based soup with potatoes and mayonnaise.
Andrajos (Jaen)
Another of those really tasty dishes that the Spanish are able to cook up from very modest ingredients, in this case a bit of rabbit, some little flour cakes, in a vegetable sauce of onions, tomatoes, peppers, garlic and olive oil, and/or whatever else is at hand.
Tortilla de Sacromonte (Granada)
Well, it's an omelette, of course, but not the more typical Andalucian potato omelette. This local variant particularly features sweetbreads. For the less squeamish that's sheeps brains. I hadn't had this before, but it was actually rather good. Admittedly I wouldn't have known it included brains if someone hadn't told me.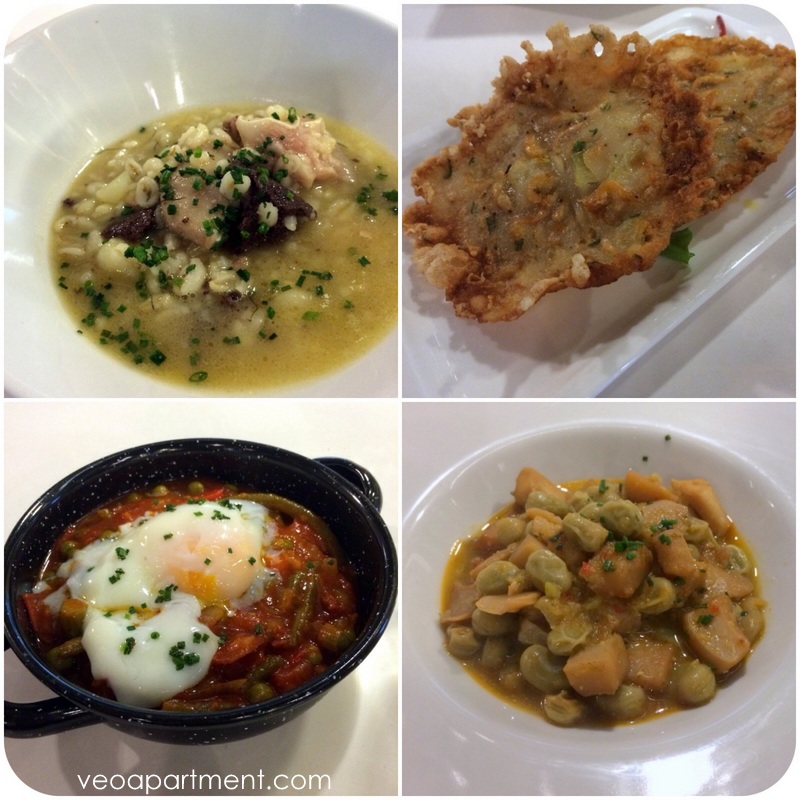 Olla de trigo (Almería) | Tortillitas de Camarones (Cádiz)
Huevos a la flamenca (Seville) | Habas con chocos (Huelva)
 Olla de trigo (Almería)
Literally a wheat pot. Another stew, this time of wheat, fleshed out (so to speak) with all those odd bits of pig that you have left over. Traditionally this includes the pig's ear, which turned out to be quite tasty, though a little chewy.
Tortillitas de Camarones (Cadiz)
If you're at all familiar with Spanish food you'll already have tried these shrimp fritters, and experienced the crispy, crunchy goodness. And if you've tried them once you'll probably be wanting some more.
Huevos a la flamenca (Seville)
A tomato and pepper sauce/stew topped with poached eggs. One of those traditional winter warmers that never fails to hit the spot.
Habas con chocos (Huelva)
And this is another warmer. A stew of broad beans with cuttlefish that sticks nicely to your sides.