If you're in Seville on holiday, or for any reason really, you'll probably spend most of your time in, or very close to, the "casco antiguo", the central part of the city within the route of the old city walls. It's quite compact and very walkable – you can usually everywhere you need to in less than twenty minutes. Indeed, in most of it, walking is the only practical option. The one drawback is that it's easy to get lost in the maze of narrow streets, so remember to take a map with you. Your hotel or apartment can probably give you one, but if not, you can get a free map from one of the tourist information offices in Plaza San Francisco or Avenida de la Constitución (21B).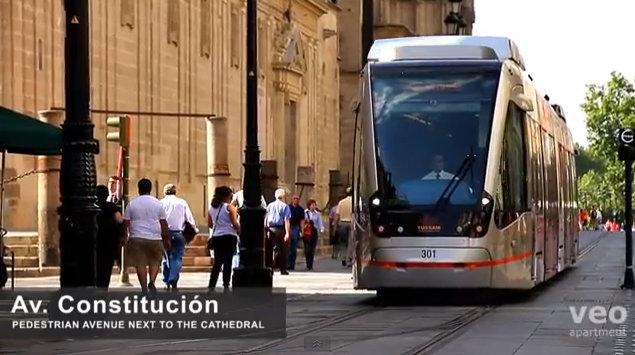 Public Transport – There's a fairly extensive network of buses connecting the centre to the suburbs, but none that cross the centre. The buses on the inner ring road and to Santa Justa and the Cartuja are quite handy though. The tramway connects San Bernardo train station and San Sebastian bus station to Plaza Nueva. Fares on the buses and tram are €1.30 per journey, and there are multi-journey tickets too.
Sightseeing buses – This hop on-hop off bus service has been greatly improved and now has three routes to choose from, with sections inside the city. A walking tour is included, and the tickets, price €15, are valid for two days.
Car – The general advice is don't drive in the city centre. It's even easier to get lost than when you're walking, and parking is both expensive and difficult to find. If you need a car for day trips out of town rent a car from one of the agencies at Santa Justa, the main railway station.
Taxi – The official taxis are white, and reasonably cheap and numerous but they can be expensive in the centre because of the one way systems and narrow streets.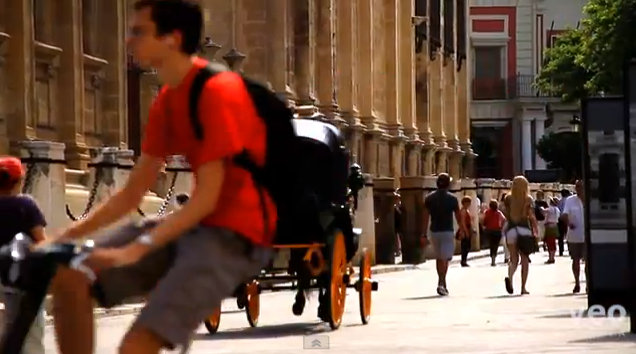 Rental Bikes – Seville has an official bike rental system called Sevici with lots of pick up and drop off points all over the city. With an extensive system of dedicated cycle paths, it's a cheap, fun way to get around, and a good way to get to places like María Luísa Park or the Cartuja. There are also some private rental shops and organised bike tours.
Horse Carriages – These cost about 50 euros for a group of 4-5 on a 45 minute ride. A bit kitsch and corny, but if  you're strapped for time you can see the Plaza de España and María Luísa Park in less than an hour.