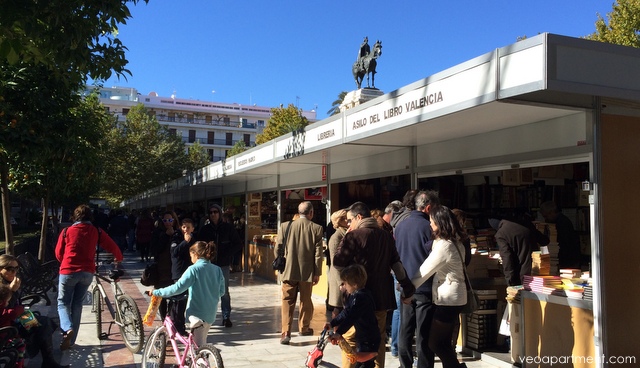 Christmas Book Market in Plaza Nueva
Love it or loathe it, the Christmas shopping season is now upon us. In Seville that means not only the usual high street shops and stores, but also a good number of street markets, which add some individuality and colour to the proceedings, and are actually good fun to browse in search of those elusive bargains and special gifts.
For the bookworm in your life the annual Christmas antique and second-hand book fair (Feria del Libro Antigua y de Ocasión), on in the Plaza Nueva until December 9, is the place to go for an unusual or specialist book (though they're mostly in Spanish, of course).
From December 14 the square will be home to the annual Christmas Artisan Market, where you can find all kinds of hand-crafted items, from clothes and art to jewellery and accessories, in wood, leather, ceramic, and even ironwork. This is the market to go to for quality or one-of-a-kind gifts.
If you're looking for some new pieces for your model nativity scene, you'll find them at the Fería de Belen (literally Bethlehem) in the street between the cathedral and the Archivos de India. Nativity scenes are big here, and there's an implausible variety of mangers, stables, Marys, Josephs, sheep, wise men and Roman centurions on offer. Conveniently located for a look round in between your normal sightseeing obligations.
As well as these more specialist markets, there are Christmas Markets in several places around the city from December 5 to January 6 (Three Kings day). The Prado San Sebastian, the Alameda de Hercules, and the Plaza Encarnación and Plaza Mayor (under the Setas will all have a traditional array of market and fairground food stalls, together with ice rinks, camel rides a tent where you can visit the Kings, and other attractions. This year the city will light up for Christmas on November 29th, with a special vertical lights feature in Plaza Salvador that will imitate the famous one in Covent Garden, and once again the "3D mapping" will take place in Plaza San Francisco every evening from December 19 to January 5.