If you're coming to Seville and looking for some (reasonably respectable) nightlife, the chances are high that at some point you will find yourself in the Alameda de Hercules, especially after reading this.
The Alameda can be found in the northern part of the historic centre of Seville, between the neighbourhoods of Macarena and San Vicente, and is the largest open space inside the old city walls, forming a long rectangle that reaches from near the Barqueta almost to the city centre. These days it's quite upmarket, lined with lots of bars and restaurants, several boutique hotels, and a couple or three disco/nightclubs that host live music, as well as a cinema and a theatre. Although best known for its nightlife, it's a busy social gathering place throughout the day, with a couple of play areas and water features (not sure how else to describe them, but you'll know what I mean when you see them) for the kids, and bars and cafes for the grown-ups.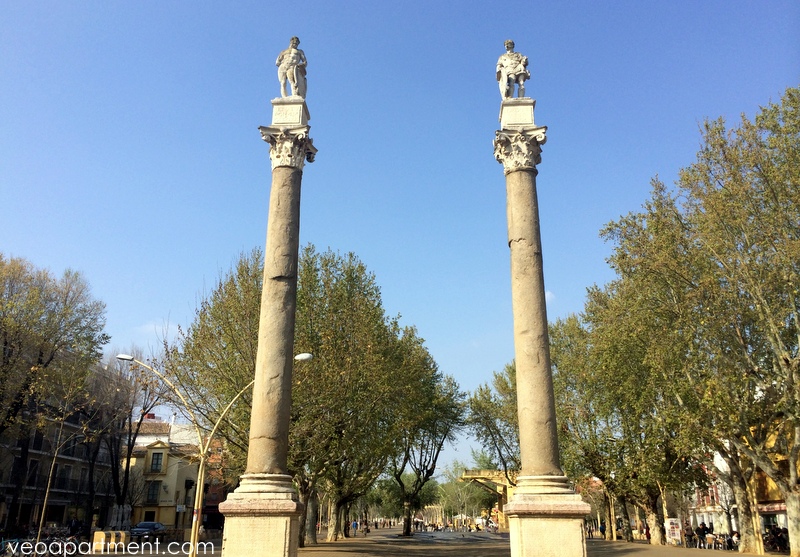 It hasn't always been this way. In fact the Alameda has a long and chequered history that in some respects has come full circle. Back in mediaeval times it was a branch of the main river that ran on through what is now Sierpes to the Arenal. After it was dammed in 1383 a shallow marshy lagoon was left behind. Finally, in 1574 it was drained and planted with the avenue of poplars (álamos) which give it its name, creating the oldest public park in Europe. Four marble columns (two at each end), were added. Those at the southern end came from the Temple of Diana, whose last three columns can still be seen in Calle Marmoles, and are topped with statues of Hercules and Julius Caesar, considered to be the founders of the city. In the 19th century it was a popular place for the upper classes to stroll and socialise, but from the time of the civil war it went into decline, becoming the city's red-light district. More recently it has been undergoing a process of gentrification which included a complete refurbishment of the square itself, with partial pedestrianisation.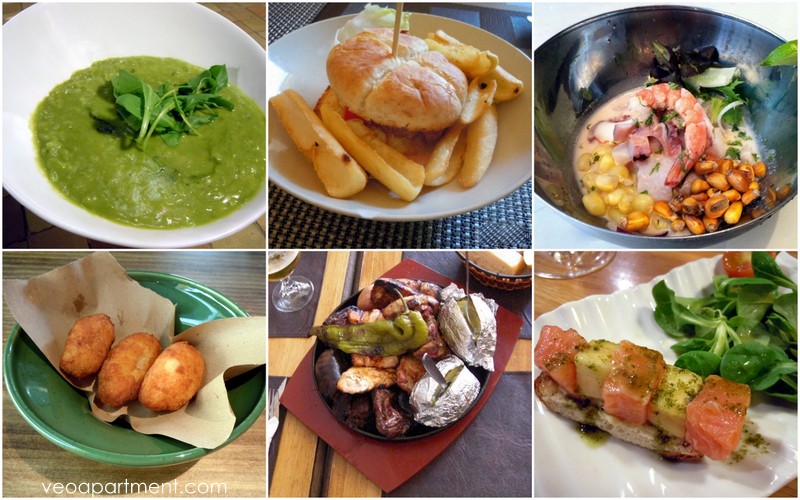 tapas variadas in the Alameda – something for everyone
Eating out in the Alameda offers traditional Spanish fare along with international flavours, from Japanese-Peruvian fusion at Nikkei Bar to Argentinian style La Parrilla de Badulaque for terrific grilled meats. For something a bit more elegant head to Al Aljibe (a personal favourite), while buzzy Bar Antojo and Duo Tapas cater to a young hip crowd. If it's a hot afternoon Freskita Heladería (ice cream bar) could be what you're looking for. There may well be street performers to entertain you too, though opinions differ on whether this is a plus or minus. For late night drinking follow the crowds – what's hot can change faster than British weather. After midnight Thursdays to Saturdays go to Fun Club for disco and live music. Another popular music nightspot is the Naima Jazz Café just off the square in Calle Trajano.
If you want to stay close to the Alameda, veoapartment has a wide variety of holiday rental apartments nearby. Choose one from either our Macarena or San Vicente listings.